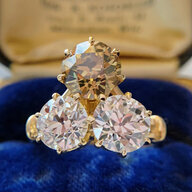 Joined

Jul 23, 2012
Messages

18,849
Oh come on. Perfect as in those looking for perfect cutting symmetry in antiques that is drilled on in threads here.
It's repeated quite often as that's what to look for.
Have you seen anything I own that I post on this board?
Nothing I have is perfection to the standards lauded here on PS.
The ring is divine.
Period.
I commented on your statement you didn't expect to hear much likes on it.
Nothing I said was a negative in my meaning.

So sorry..
I was teasing - I know what you mean.
Thank you for the compliment.