By
Erika Winters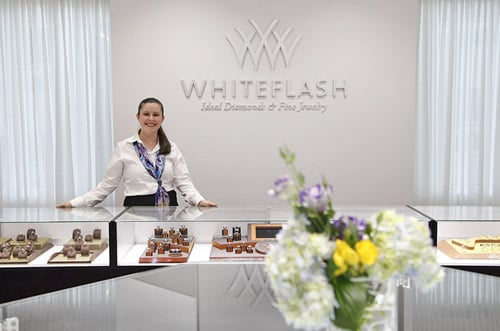 Whiteflash showroom in Sugar Land, Texas
In 2012, popular diamond jewelry retailer Whiteflash debuted its first traditional retail showroom in Sugar Land, Texas, after primarily operating as an e-commerce business since 2000. And just a few days ago the company announced that their retail store was granted membership in the renowned American Gem Society (AGS).
Founded in 1934, AGS created a unique organization focused on protecting consumers and upholding ethical business practices, while developing and continuing gemological education. To become AGS members, jewelers go through a peer-reviewed application process and must complete a recertification exam every year.
Whiteflash is not only known for their customer service but also for their extensive consumer education. The company specializes in ideal-cut diamonds graded by the AGS Laboratories, a leader in diamond light performance technology and research. Whiteflash has published numerous articles on AGSL's cutting-edge research, and more recently Whiteflash and AGSL have collaborated on several articles to educate the consumer on the diamond grading process.
"Over the years we have developed great admiration and appreciation for the talented people and outstanding work done at the AGS Lab. We are delighted to be joining the American Gem Society as members, and we look forward to making significant contributions to furthering the goals of AGS and our fellow retailers," said Whiteflash CEO Debi Wexler.
*Consumers interested in learning more about the AGS Laboratories diamond grading system should visit Diamond Grading – The AGSL Way, written by Whiteflash vice president Bryan Boyne in collaboration with Alethea Inns, director of diamond grading at AGSL.
Designer engagement rings from brands including Ritani (shown above), Tacori, Verragio, Vatche, Mark Schneider and Benchmark can be viewed at the Whiteflash showroom in Sugar Land, Texas.
More on Whiteflash:
Whiteflash Debuts New Showroom in Sugar Land, Texas

Whiteflash to Open New Retail Showroom