By
Erika Winters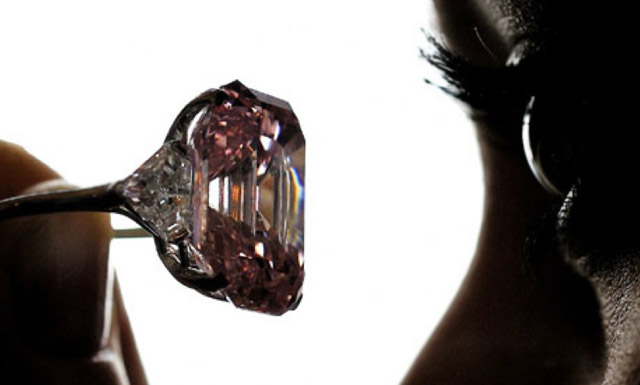 Image: A Sotheby's model holds the Graff Pink diamond. (At a safe distance from the eye!)
If you're squeamish, shield your eyes and read no further, as the concept of eye jewelry is not for everyone. Last week, we became apprised of a jewelry technique that takes organic design to the next level–literally. This new technique implants jewelry close to the surface of the eye. And this style is not to be confused with those $15,000 diamond contact lenses from a few years ago. This is an actual surgical jewelry implant–for the eye.
So what is it exactly? According to Park Avenue Laser Vision, home of SafeSight Jewelry, it's basically a thin piece of platinum (less than 1mm) cut into a curved decorative shape that is implanted in between the clear part of the eye (the conjunctiva) and the white part (the sclera). Platinum is used for its hypoallergenic properties. The implants are from Holland, where the concept originated. SafeSight Jewelry is the first offering of its kind in New York, but the procedure has been done in Europe and Los Angeles "hundreds of times" according to myfoxny.com, which interviewed Lucy Luckayanko, a SafeSight customer.
From myfoxny.com:
"It's going to be a conversation maker," says Lucy Luckayanko. "I will be able to tell people. It will be unique. It will be sort of my unique factor.
"50 percent of my friends are like what is it? Why do you need it oh my god are you crazy?" she says. "You're going to put something in your eye! But 50 percent of my friends are like oh my god it's super cool."
Although Dr. Chynn (who explains the procedure in the video below) of Park Avenue Laser Vision says the procedure is safe, eye jewelry implants, which cost about $3,000, are not FDA approved.
In a statement to Fox 5, the American Academy of Ophthalmology said there is not "sufficient evidence to support the safety or therapeutic value of this procedure." It urges consumers to "avoid placing in the eye any foreign body or material that is not approved by the FDA."
So what do you think about "eye jewelry?" Would you try this procedure to add a little extra twinkle–IN your eye? Cast your vote!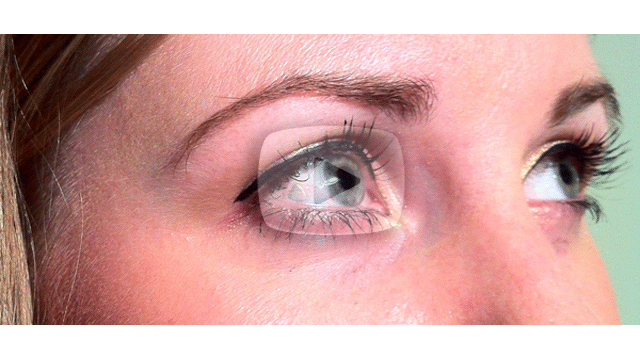 Video requires Flash. Watch at YouTube.
Related:
$15K Diamond Contact Lenses – Need some twinkle in your eyes?