By
Erika Winters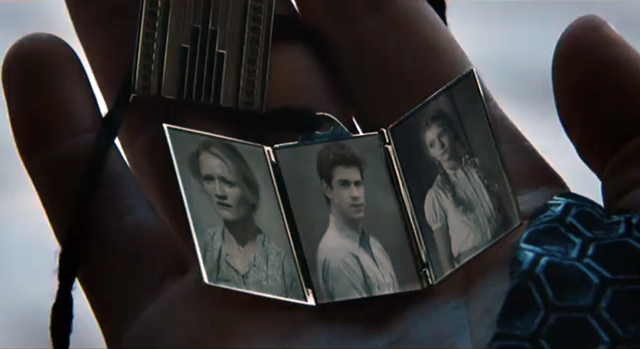 The locket featured in The Hunger Games: Catching Fire was designed by Dana Schneider. Image via the film's trailer.
We are always riveted by jewels in film, especially symbolic pieces or those that are integral to the story and the characters' motivations. So when we spied the locket worn by character Peeta Mellark in The Hunger Games: Catching Fire, we had to learn more. And thankfully, Entertainment Weekly published an interview with Dana Schneider, the designer who created the locket and the iconic Mockingjay pin.
The men's locket has a striking geometric design that opens to reveal portraits of character Katniss Everdeen's mother, sister, and love interest, Gale. If you haven't yet seen the film (or read the books), we won't spoil it by telling you why the locket is so important. But for those who wear lockets with images of their loved ones, the message is pretty clear.
From Entertainment Weekly:
"I knew Peeta's necklace was going to be pretty prominent, and it's hard to make a locket that looks masculine. I got this idea about how the case would flip off and reveal this folding inside. I knew the special effects people could put in CGI images on the locket, so I tried to focus on the silhouette and how it functioned," Schneider explained.
And as you can imagine, fans will want to be able to purchase a replica of the locket, like the Mockingjay pin. In the Entertainment Weekly article, Schneider talks about the licensing of the designs and their availability for purchase.
"Lionsgate has the rights to market them. They took one of my lockets and came up with an inexpensive way to produce it. I think they did a nice job, but it's a little different from my original," the designer said. "I read somewhere that they sold something like 15 million dollars worth of Mockingjay pins for The Hunger Games, which is pretty insane.
Visit Entertainment Weekly to read the full interview. And catch a glimpse of the locket in the trailer below.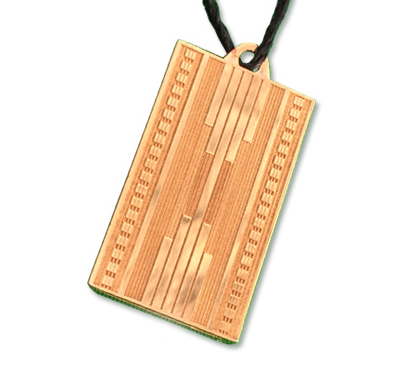 Image via www.danaschneider.com. Peeta's locket was designed by Dana Schneider, who has created jewelry for many popular films, including The Wolverine, The Girl with the Dragon Tattoo, and Tron Legacy. You can also see her work at Etsy.
Catch a glimpse of Peeta's locket in the The Hunger Games: Catching Fire trailer. Video requires Flash. Watch at YouTube.
More on The Hunger Games:
Claudio Pino Adorns Stanley Tucci and Lenny Kravitz in "The Hunger Games: Catching Fire"