By Erika W.
Ohio jewelry designer, Dana Schneider designed the Mockingjay pin worn by the character Katniss Everdeen in The Hunger Games film, which opened in theatres today. The pin features a Mockingjay bird, which is a symbol of rebellion within the dystopian landscape of Panem, the fictional nation and setting of The Hunger Games trilogy. Schneider created the gold pin based on the design from the book cover–using techniques to age the piece with patina to bring the pin to life.
Schneider has created jewelry for over 40 films including The Girl with the Dragon Tattoo and The Matrix.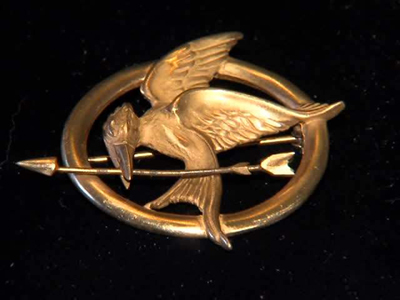 Photo courtesy of WEWS newsnet5.com
Dana Schneider talks about the making of the Mockingjay pin in the following newsnet5.com video.
Haven't seen the film yet? Click to see the official trailer.
Related Topics:
May the odds be ever in your favor.