Whiteflash is expanding with a new retail showroom, which is scheduled to open in August 2012 in Sugar Land, Texas. The goal is to provide a more traditional retail experience for the company's growing number of local customers. Since 2000, Whiteflash has functioned as an e-commerce business and has played a pivotal role in shaping the online jewelry marketplace.
"We are located in one of the premier jewelry markets in America and our strong internet presence is attracting an increasing stream of local customers. The new showroom will help us better serve this significant market, while at the same time we will continue to focus on the things that have brought us success in the national and international markets," said Bryan Boyne, G.G., Vice President of Whiteflash.
The new showroom, located in Sugar Land Town Square, is near the company's Houston headquarters. "Sugar Land Town Square is a beautiful complex and I'm very excited that it will be the new home for Whiteflash. The showroom will enable us to evolve an important area of our business by providing an intimate venue for our jewelry designer partners," said Whiteflash CEO, Debi Wexler.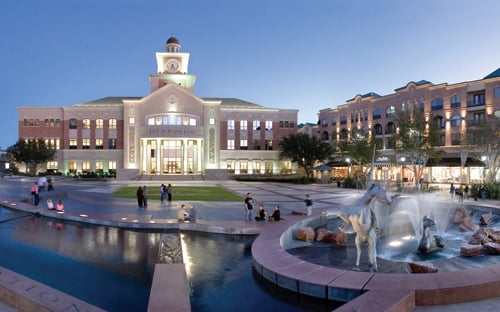 Sugar Land Town Square
In August 2012, Whiteflash will open the new retail showroom at 2150 Town Square Place, Suite 330, across from Sugar Land City Hall.
"Sugar Land is one of the highest quality and fastest growing communities in Texas. This demographic is a perfect match for our expertise in top quality diamonds and designer engagement rings. Providing an exciting new venue for customers to physically see and feel the quality of our products will enhance our business in very important ways," said Whiteflash COO, Eliezer Eber.
Related Topics:
Another Whiteflash ACA video – Calling the pros!
ASET – The Diamond Evaluation Tool by Bryan Boyne, G.G.