By
Erika Winters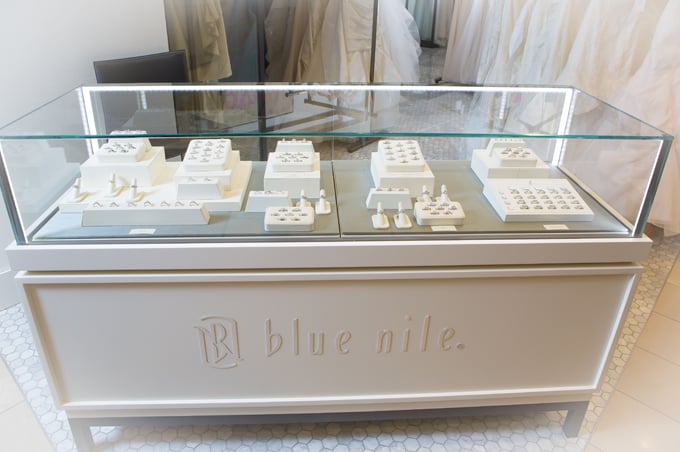 The Blue Nile display at Nordstrom's flagship store in Seattle features an assortment of engagement rings and wedding bands. Image courtesy of Blue Nile.
Blue Nile has teamed up with Nordstrom to showcase its bridal jewelry collections at a retail location–for the very first time–starting at Nordstrom's Seattle flagship store. It's an interesting development that follows the recent e-tailer-to-brick-and-mortar trend: while many jewelry retailers are boosting their online presences, some online retailers are going local to reach more customers and enhance their service.
The Blue Nile display at Nordstrom in Seattle is a six-month trial that may be extended to other Nordstrom locations. The display, which is on the 2nd floor in Nordstrom's wedding suite, lets customers view and try-on an assortment of engagement rings and wedding bands before they purchase. To actually buy a ring, however, Blue Nile is keeping with its e-commerce model, so rings must be bought online. iPads are available at the display, and customers may work with a consultant on site to create or purchase rings though Blue Nile's online store.
Back to the future: The collaboration unites two Seattle-based companies that opened almost 100 years apart. Nordstrom launched in Seattle in 1901 as a small shoe store called "Wallin & Nordstrom." The company has grown into the renowned customer-service oriented store that exists today with continuing innovations in e-commerce. Blue Nile launched in 1999, helping to define jewelry e-commerce as the largest online retailer of certified diamonds. Blue Nile has always operated as an e-tailer, and the display will likely serve to boost its brand on a local level.
Visit the Blue Nile collection exclusively at Nordstrom to see selections.
More on Blue Nile:
Top 3 Engagement Ring Styles from Blue Nile
Exclusive Look at Blue Nile's Red Carpet Jewelry Showcase
Monique Lhuillier to Launch Bridal Jewelry Collection for Blue Nile