By
Erika Winters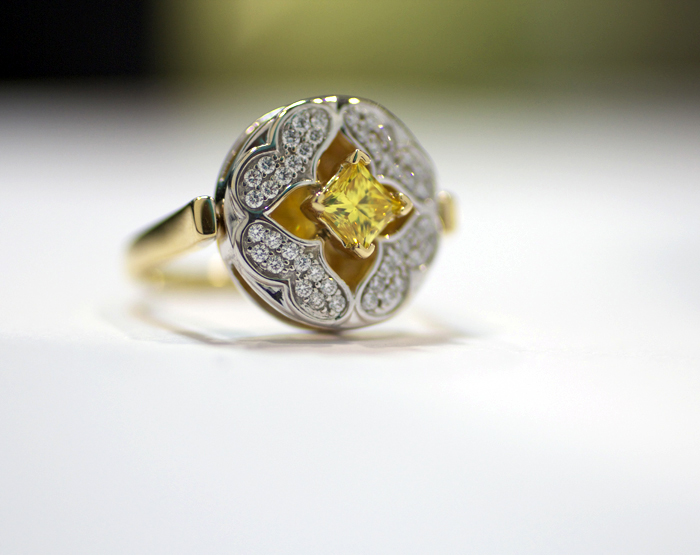 Nurture by Reena – Moments Collection – Galium Ring with yellow and white lab-grown diamonds in 18k white and yellow gold
Last month when renowned jewelry designer Reena Ahluwalia announced that her new lab-grown diamond jewelry brand, Nurture by Reena, would debut at JCK 2014, we were excited to see the collection in person.
Nurture by Reena is billed as the world's first lab-grown diamond designer jewelry brand that doubles as wearable technology. The collection features QR codes hidden discreetly on the backs of each piece that allow people to personalize their jewelry with messages and images that can be accessed via an app. While wearable tech is evolving, there are very few existing lines that combine well-designed fine jewelry with technology. Ahluwalia's spin on jewelry's sentimental value in a digital context is innovative–she has created a series of jeweled time capsules.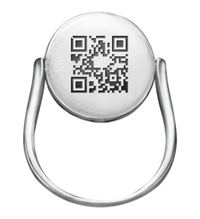 QR Code • Image: Nurture by Reena
Before we delve into her designs, it's important for those new to lab-grown diamonds to understand exactly what they are. Lab-grown diamonds essentially have the same chemical composition and crystal structure as natural diamonds. They are not to be confused with gems that simulate diamonds. Lab-grown diamonds are indeed diamonds, they are simply grown in a controlled laboratory environment. And Nuture by Reena is committed to featuring lab-grown diamonds in the brand's designs with full disclosure.
While natural fancy-colored diamonds can be prohibitively expensive to some consumers, lab-grown diamonds present an affordable option for those seeking color without the "fancy" price. This is not to negate the beauty and rarity of naturally colored diamonds, as collectors will continue to treasure earth-mined diamonds. But for those wanting a fashionable piece of jewelry featuring lab-grown colored diamonds, Nurture by Reena's pieces start at $2,500.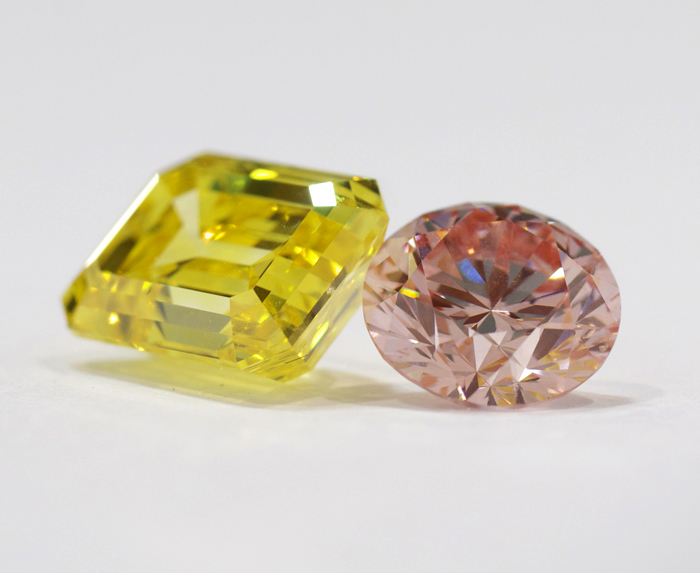 Yellow and pink lab-grown diamonds from Nuture by Reena
Nurture by Reena's Moments Collection was the first to debut at JCK 2014. The collection features rings, pendants, bracelets, and earrings that are both substantial and feminine. All of the designs feature lab-grown diamonds exclusively. And many of the pieces are set with colored lab-grown diamonds including pink and yellow diamonds. Ahluwalia drew inspiration from blooming flowers to create the line. "For me, flowers are like moments–ephemeral, yet deeply memorable," she said.
The pieces are well-crafted and comfortable to wear. The rings are hinged, so they swivel to reveal the QR code on the back. The earrings, bracelets, and pendants also display QR codes on the back, but they lie flat or dangle in a way that the code is not seen.
We can easily see women purchasing these pieces for themselves (or friends and loved ones celebrating the special women in their lives) to mark important occasions or achievements. The QR codes can be scanned on the app to remind the wearer of what the jewel represents. It's a lovely idea.
Check out some of our favorite styles from JCK 2014 below. And learn more about the collection at Nurture by Reena.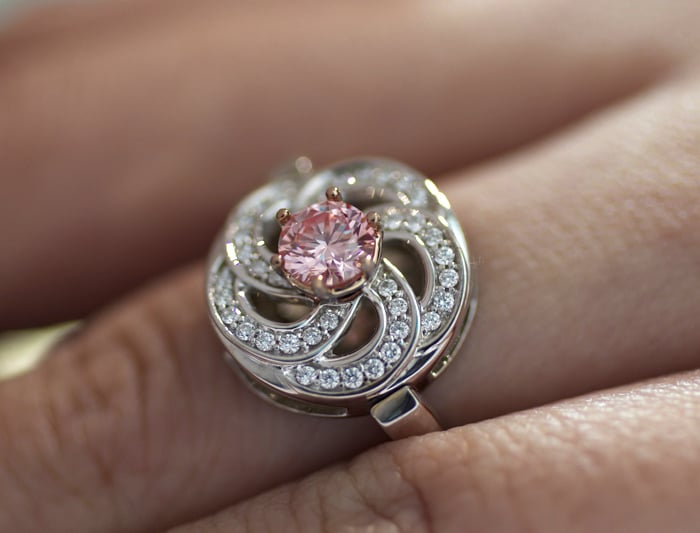 Wildflower ring with pink and white lab-grown diamonds in 18k white gold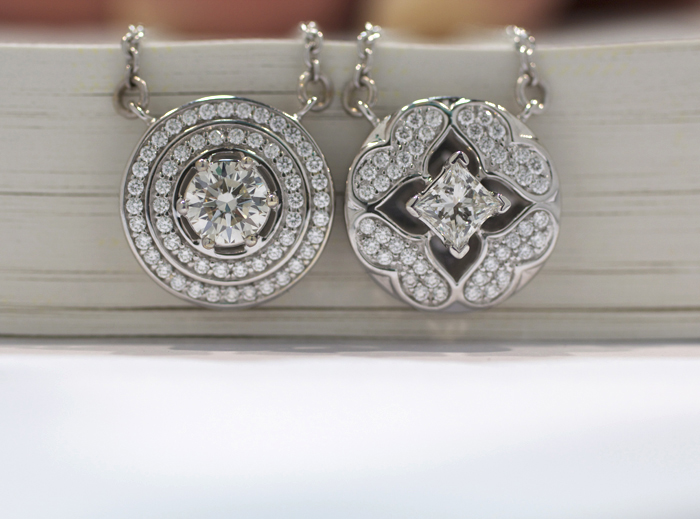 Left: Passion double-halo pendant in 18k white gold with lab grown diamonds • Right: Galium pendant in 18k white gold with lab-grown diamonds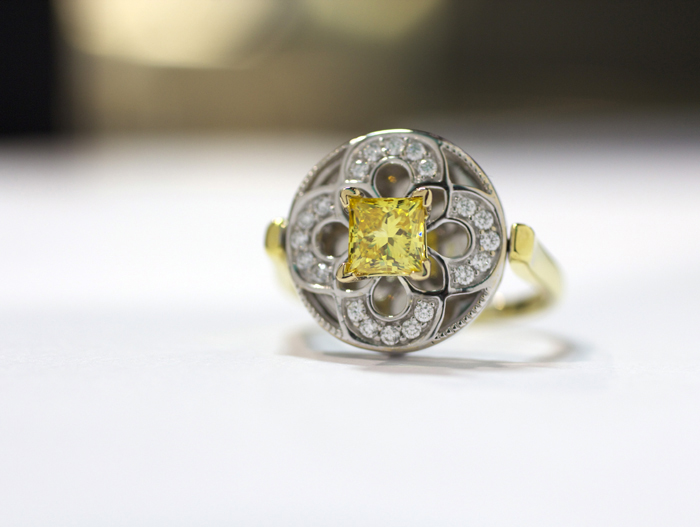 Cardamine ring with lab-grown yellow and white diamonds in 18k white and yellow gold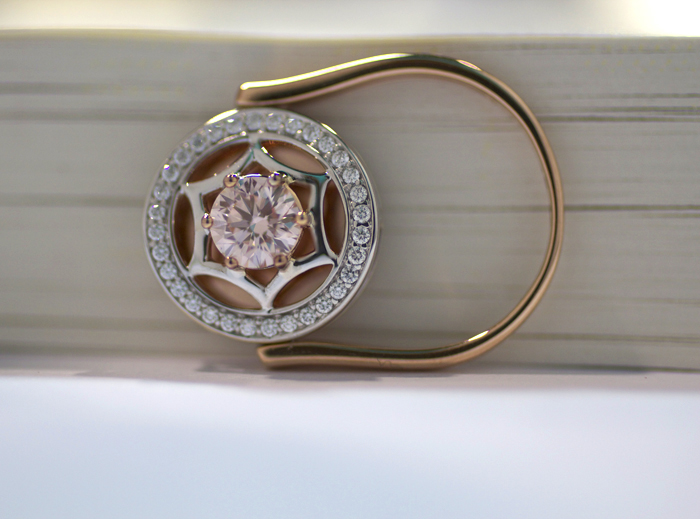 Starlight halo ring with pink and white lab-grown diamonds in 18k white and rose gold
Images by Erika Winters at JCK 2014
More on Reena Ahluwalia:
Reena Ahluwalia to Debut "Nurture by Reena" Lab-Grown Diamond Collection at JCK
Reena Ahluwalia Debuts Award Winning "Canoe" Diamond Necklace

Rio Tinto Unveils Inaugural Jewelry from Indian Diamond Mine