Rio Tinto has unveiled its inaugural Bunder diamond jewelry collection, which is comprised of diamonds from a sample recovered from the Bunder mine project in the Indian state of Madhya Pradesh.
The "Courageous Spirit" collection features a statement necklace and a pair of earrings incorporating a total of 25.34 carats of polished and 2.8 carats of rough Bunder diamonds. The necklace includes two diamonds over 5 carats: a 5.04-carat round white diamond and a 5.02-carat round cognac diamond.
The inaugural collection is significant for India's diamond history, as it has been roughly a century since the country has mined, designed, and manufactured its own jewelry. India was once the world's largest diamond producer until the country's major sources were exhausted in the 18th century. Rio Tinto discovered the Bunder project in 2004 and commercial production is expected in 2016.
"I am delighted that seven years after our initial discovery, we can showcase these exquisite pieces of jewellery that provide a window into the enormous potential of the gems contained in the Bunder deposit," said managing director of Rio Tinto India, Nik Senapati.
Madhya Pradesh-born jewelry designer Reena Ahluwalia was commissioned to design the collection, which pays tribute to the women of Madhya Pradesh and symbolizes the abundance of the Bunder deposit.
"As a woman born and brought up in the region, creating this milestone collection is like coming a full circle. I am honoured to tell the Bunder story through my designs and be a part of this historic diamond moment," said Ahluwalia. "Rio Tinto is doing an amazing job empowering and supporting the women of the community."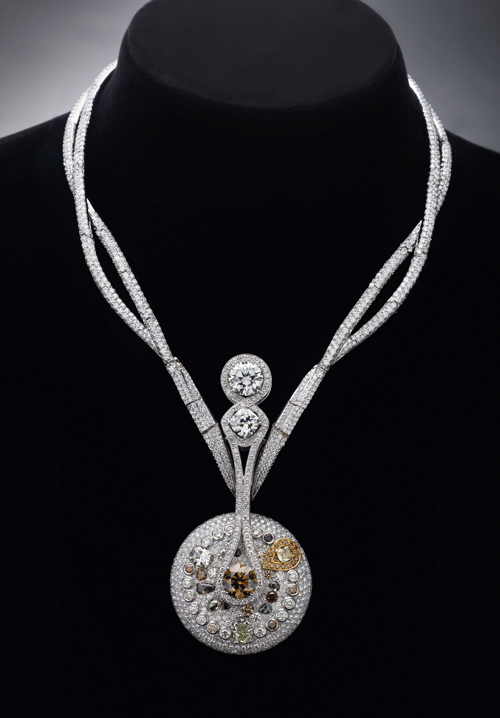 The necklace is inspired by a compass with a disc that rotates on a central axis. The latitude and longitude coordinates of the Bunder deposit are inscribed on the back of the disc.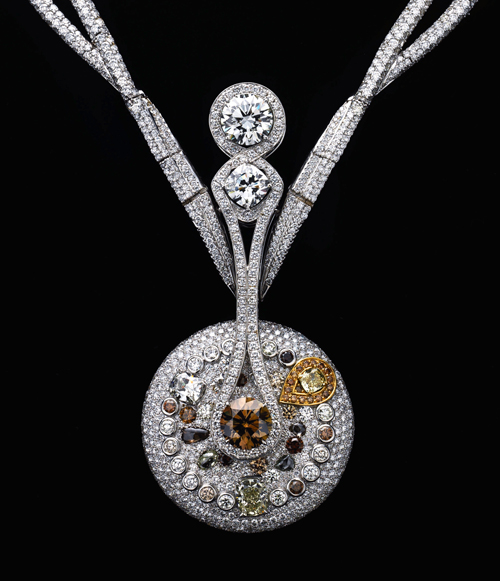 The collection symbolizes the abundance of the Bunder diamond deposit and the individuals who are integral to the mine's development.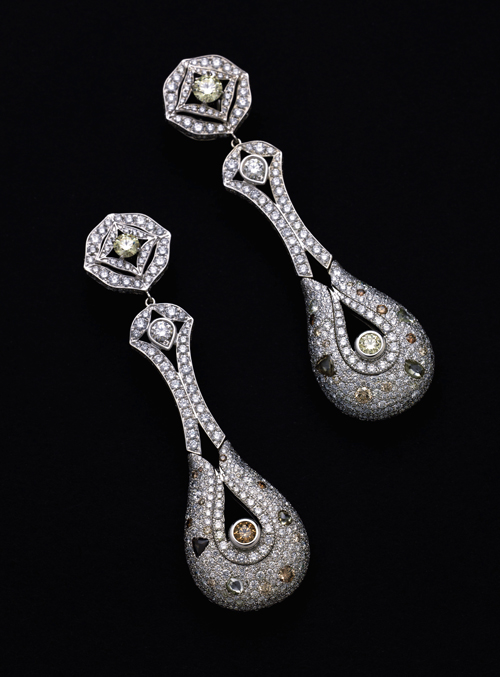 Images courtesy of Rio Tinto.
The "Courageous Spirit" collection is not available for sale, but will be showcased at events throughout the year.
Related Topics:
Rio Tinto Launches First Sustainable Jewelry Collection
Rio Tinto's Global Design Competition Winners Announced