By
Erika Winters
The Couture jewelry show, which we attended earlier this month at the Wynn in Las Vegas, presents a wild array of stunning contemporary jewels from designers across the globe. There is simply so much to see that it's easy to miss designers who are tucked away in the jeweled pockets that comprise the showroom floor. But we absolutely could not miss the Contemporary Jewelry Design Group's booth at Salon 137 (dubbed "Studio 54" by its lively inhabitants–a stellar group of jewelry designers who have way too much fun at the show!) to see a designer we've long admired, Rebecca Overmann.
San Francisco-based designer Rebecca Overmann brings us back to the essence of jewelry–that simplicity of stone and metal but with myriad textures that explore new forms. We focused on her bridal collections that are so infinitely wearable–her rings are both comfortable and fine–with a fresh spin on traditional bridal.
Overmann works unique diamond shapes, including a variety of rose-cut and colored diamonds, into elegant designs that meld shapes and textures with a delicate touch. Two of my absolute favorite rings are shown below: a double-pear rose-cut and a marquise-shaped rose-cut diamond ring. These rings impart an ancient vibe with a stunning contemporary finish in Overmann style.
Overmann has also enlivened the popular halo-style engagement ring with unique looks that balance her designs' elemental beauty with a touch of glamour from the surrounding diamonds. If you've longed to see organic styles with subtle diamond surround, Overmann's existing collections offer them in spades. She can also make custom designs, as that is one of her specialties.
And from all of our explorations of the JCK and Couture jewelry shows, Overmann gets my vote as a top bridal designer for men. Her men's bands are so lush and gorgeous–and the textures are so varied that she offers something for every groom–or bride. Her wide bands can easily be worn by men or women.
Rebecca sat down with us at Couture to talk about her bridal collections, so please enjoy the Q&A below. And check out some of our favorite looks from Rebecca Overmann at Couture 2014.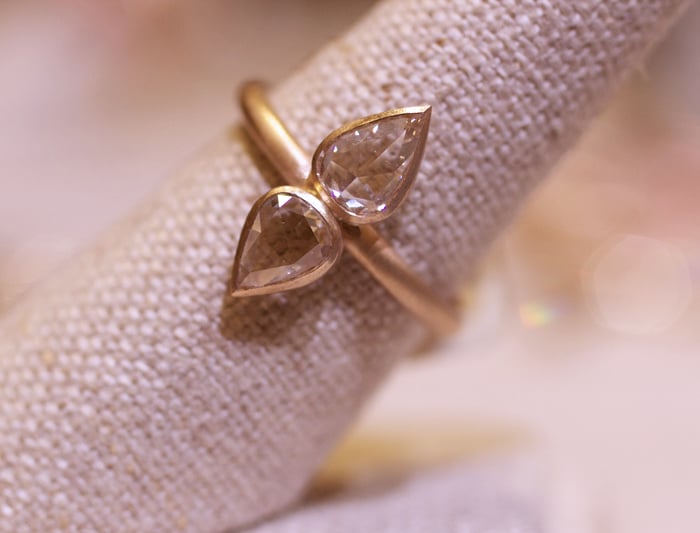 Ring with pear-shaped rose-cut diamonds in yellow gold by Rebecca Overmann
Q&A with Rebecca Overmann
EW: What inspired your career in jewelry design?
Rebecca Overmann: It wasn't so much an inspiration as an opportunity. I studied graphic design in college (Savannah College of Art & Design), but fell in love with jewelry. After graduating I had a career in design & advertising. I was lucky enough to be laid off after my employer lost a big account and used that opportunity to focus my energy on something that I really loved.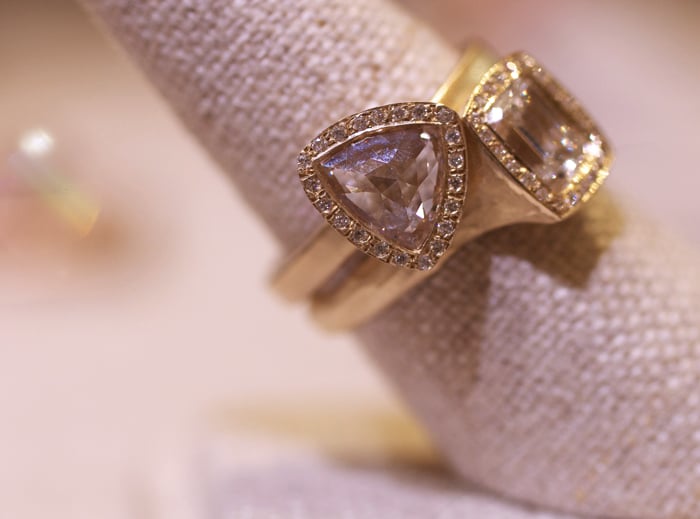 Wedding Collection engagement rings with rose- and step-cut diamonds
EW: Your designs explore so many textures that highlight the metals' beauty. Could you describe what inspires these striking textures?
Rebecca Overmann: My textures are actually a result of my technique — while a lot of designers work on paper or with the computer, many of my designs originate with a wax carving. Since I tend towards pieces that someone would wear everyday and are a bit more casual, texture plays a very natural role. The texture itself is created by the tools I use (blades, burrs, and sometimes found objects — I have a favorite rock), and I do very little finishing or polishing to the surface textures in the final, cast piece as it softens the texture.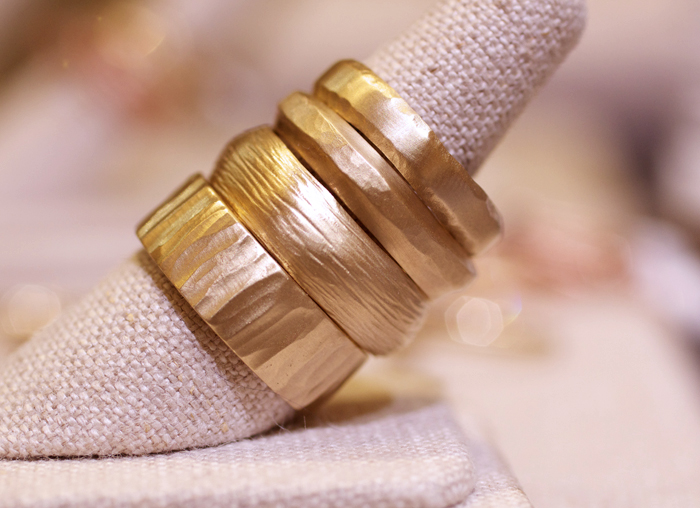 Textural men's wedding bands in yellow gold
EW: Where are your pieces made? Do you fabricate your jewelry or do you employ others to produce your designs?
Rebecca Overmann: I create all of my work in my SF studio — the wax work, fabrication and stone setting is done in our studio… I still do a lot of it myself (it's hard to give up the main reason I started doing it in the first place)! For casting I work with a local San Francisco caster. I have a very small staff of talented folks — it's a collaborative environment where everyone has a say, and we're all in the business for the love of it.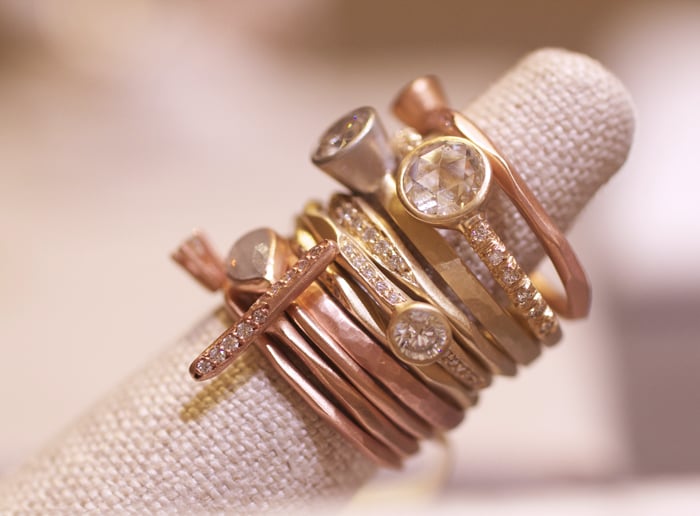 Organic ring stack with diamonds in yellow and rose gold
EW: Is your jewelry made with recycled metals exclusively?
Rebecca Overmann: We use recycled metals and source ethically mined and 'storied' diamonds whenever possible. We often have clients who bring us family jewelry that we remove the stones from and refine the metal for use in one of our contemporary designs.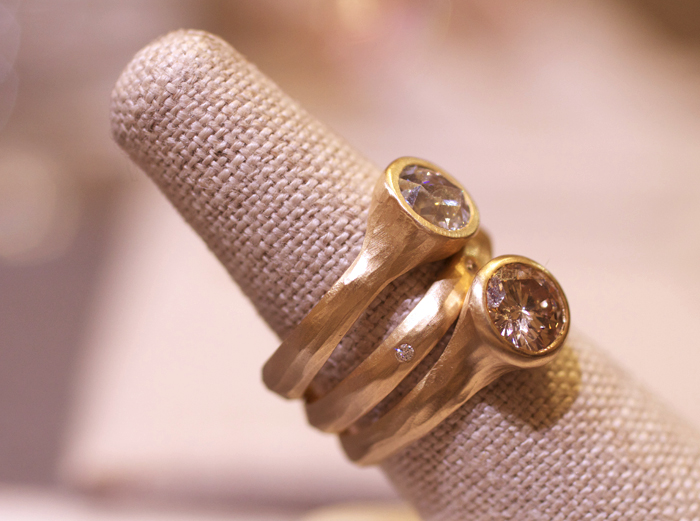 Textural bezel diamond engagement rings and wedding band in yellow gold
EW: Your designs strike a lovely balance between simplicity and elegance. Tell us about how you wear your own jewelry and how that influences your designs.
Rebecca Overmann: I'm probably not the best example. I wear it all the time, I sleep in it and work in it. But this certainly makes me aware of it's comfort — if it doesn't feel good when I wear it, it'll end up as scrap 🙂 I've always felt that I make jewelry to be worn everyday, not just a special occasion, and I'm definitely the poster child for this!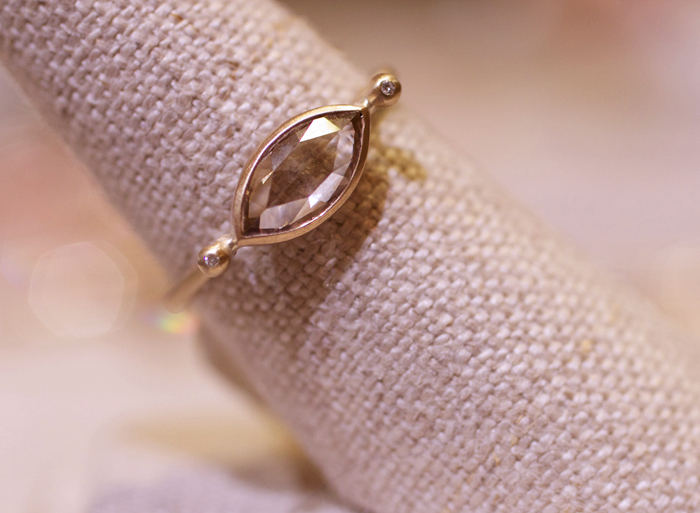 Rose-cut diamond engagement ring in yellow gold
EW: Could you share your advice for our readers seeking a custom creation?
Rebecca Overmann: Buy a diamond based on how it looks, not on it's specifications — don't get me wrong, I love a beautiful fancy-cut diamond. There are so many options out there to source diamonds based solely on the "4 Cs" — this never replaces seeing the life and beauty that is unique to each diamond. So my advice to shoppers is to make your decision based on the actual stone and to not get hung up on the details.
Also, give yourself plenty of time for some small sizing adjustments. Ring sizers are almost never the same. (and your fingers change a ton too)!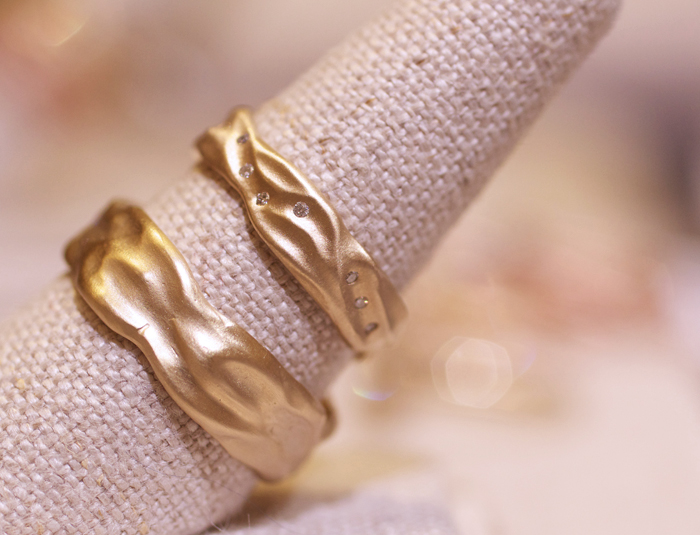 Wedding bands in gold with diamonds
Images by Erika Winters at Couture 2014
More on Jewelry Market Week 2014:
Struck by Syna Jewels at Couture 2014
What's the Buzz? Gumuchian's New "B" Collection Stunned at JCK 2014

Rahaminov Diamonds Unveils 40-Carat Yellow Diamond Ring at JCK Luxury 2014