By
Erika Winters
When a jewelry collection is designed for a worthy cause, we take notice, as we appreciate designers raising awareness and giving back to their communities. Gumuchian's new "B" collection–launched at JCK 2014–is both beautiful and important, as a portion of proceeds from sales will be donated to HoneyLove.org, a non-profit organization that supports urban beekeeping.
Did you know that the declining honeybee population is affecting the world's food supply? We didn't. And we also didn't know that one in every three bites of food consumed in the U.S. is a direct or indirect result of bee pollination. According to HoneyLove.org, bees pollinate a whopping 80% of the world's plants.
So Patricia Gumuchian–who designed the "B" collection of rings, bracelets, earrings, and necklaces–answered the call to action to support urban beekeeping.
"I have never been afraid of bees. I think they're wonderful," said Patricia Gumuchian. "I look around our office of women and think about the worker bees – who are the female bees – and how valuable they are to our livelihood. Our family gatherings and holidays largely center on all types of foods. What would happen if these things just went away? The effects could be detrimental. We need to change what's going on."
We had seen a few images of "B" from Gumuchian's initial announcement, but we were stunned to experience the collection in person. First, "B" combines Gumuchian's lovely quality with glamour and wearability. And Patricia Gumuchian's delightful play on the honeycomb's hexagonal shapes is so fresh and fun that we left the booth buzzing…
A wide, hinged cuff with diamonds and a moveable bee brought the honeycomb to life in 18k gold. And the bands–from slim stackables to wide statement rings–are perfect alone or worn together in Gumuchian style. A hexagonal-link bracelet with detailed bee-themed charms was one of our favorite pieces at JCK. And the gorgeous 77.43-carat hexagonal citrine necklace simply took our breath away.
Gumuchian's "B" collection starts at $1,400, an attractive starting price for such luxurious quality (and a great cause). Enjoy our favorite looks from Gumuchian at JCK 2014, and note that styles will be coming soon to the new Gumuchian website that is now under development!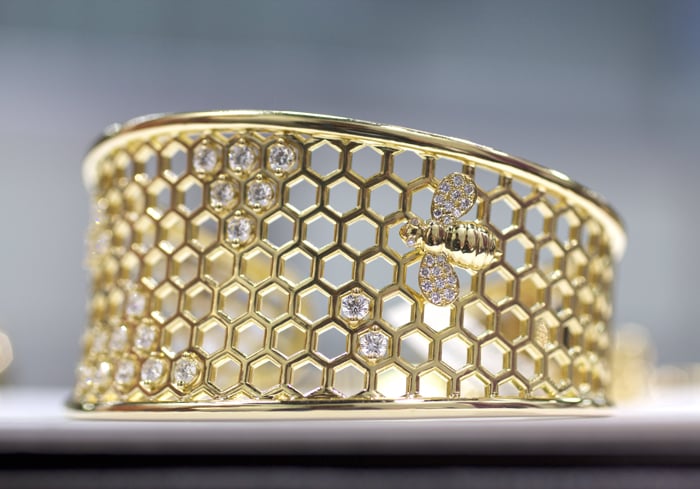 Diamond cuff in 18k gold – the bee moves!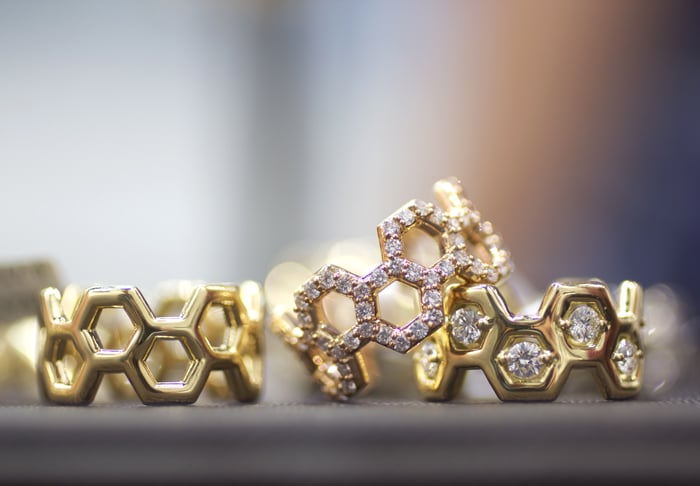 Hexagonal cutout bands in 18k yellow and rose gold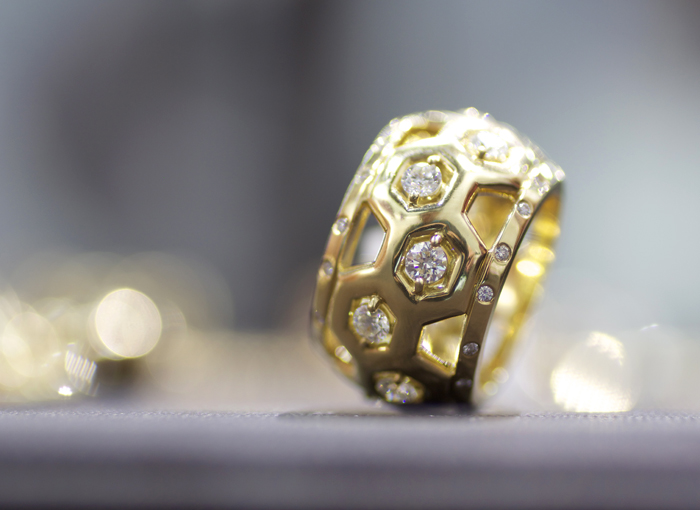 Wide diamond band in 18k
77.43-carat hexagonal citrine necklace in 18k with diamond surround • Citrine was custom-cut in Idar-Oberstein, Germany for Gumuchian.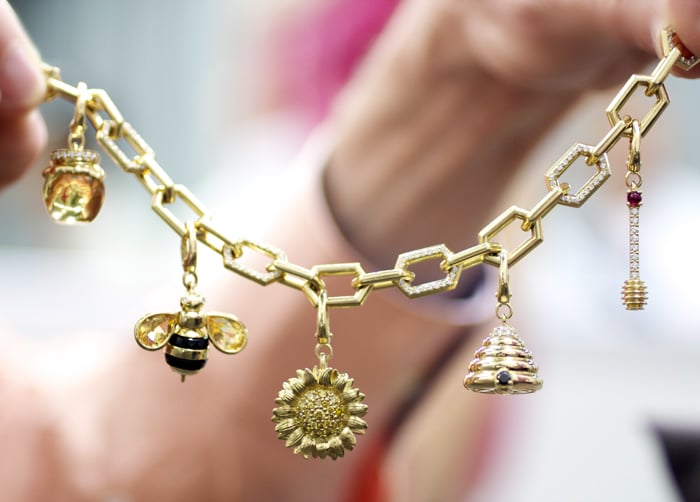 Hexagonal link bracelet with detachable charms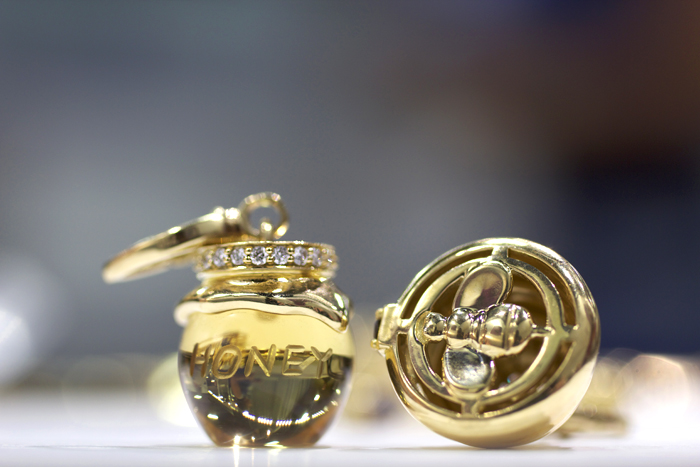 Honey and hive charms in detail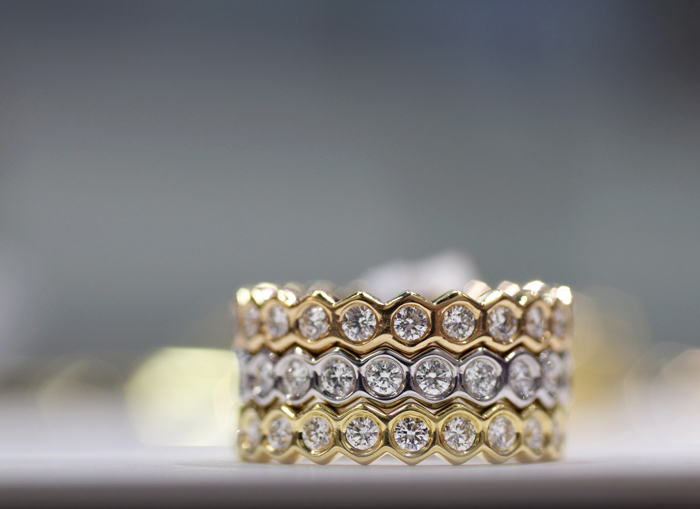 Slim stackable diamond eternity bands in 18k rose, white, and yellow gold
Images by Erika Winters at JCK 2014