By
Erika Winters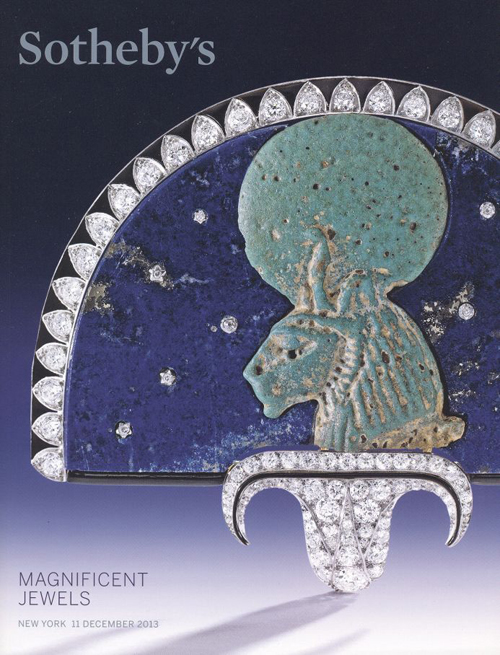 Sotheby's jewelry catalogues are popular among collectors on eBay. Image via catalogues.nl on eBay
In the near future, Sotheby's will be offering jewelry from its New York live auctions on the online-shopping site.
Today eBay and Sotheby's announced a new partnership uniting the online-shopping giant with the internationally-renowned auction house to bring art, antiques, and collectibles (including jewelry) to eBay's 145 million active buyers around the globe.
To start, Sotheby's will offer a number of its live auctions taking place at Sotheby's headquarters in New York via a newly-designed marketplace on eBay. The marketplace–set to launch in the near future–is tailored for both seasoned collectors and first-time buyers. It will include a live-auction feature and real-time bidding for buyers worldwide.
Sotheby's will offer items from 18 categories including jewelry and watches.
"The growth of the art market, new generation technology and our shared strengths make this the right time for this exciting new online opportunity," said Sotheby's chief operating officer Bruno Vinciguerra. "We are joining with eBay to make our sales more accessible to the broadest possible audience around the world."
According to the New York Times, this isn't the first time eBay and Sotheby's have partnered. They collaborated in 2002. It ended after a year. But it seems the time is right for the new collaboration, as eBay sells more high-end goods now than ever before. And Sotheby's could benefit from eBay's 145 million active buyers–many in the middle market.
From the New York Times:
Capturing the online market means reaching out beyond Sotheby's relatively exclusive pool of customers — which it numbers at more than 100,000 — to 145 million on eBay, most of whom have never seen a gavel fall. It is also a striking reversal from Sotheby's decision in 2006 to concentrate primarily on the high end of the business. The company's own research shows that more than 50 percent of all lots sold at auction last year were in the $5,000 to $100,000 range — a chunk of the middle market it hopes eBay will help it reach.
From an accessibility standpoint, the partnership makes perfect sense, as with other high-end/mass-market pairings. Those who prefer Sotheby's traditional auctions will still have that option. But for those who feel that Sotheby's is a tad out-of-reach, eBay's familiar interface (with Sotheby's luxury imagery) may appeal.
Related:
Rolex Watches, $98,000 Diamond Rings: There's More for Your Life…at Sears?

Neiman Marcus and Target? Odd Couple or Match Made in Heaven?