By
Erika Winters
The Women's Jewelry Association has awarded $16,000 in scholarships to eight students in undergraduate and graduate programs for jewelry and metalsmithing.
Scholarship funds are raised through the WJA's annual Awards for Excellence gala, raffle, and silent auction in addition to individual member and sponsor donations. Scholarship support is also provided by the Marilyn DaSilva Fund, the June Herman Fund, and the Myra Goldstein Scholarship Fund.
This year's Awards for Excellence gala will be held on Monday, July 28, 2014, at Pier 60 at the Chelsea Piers in New York City. Funds raised by the gala will be earmarked for WJA scholarships and grants. Visit the Women's Jewelry Association to learn more about the 2014 Awards for Excellence gala.
Congratulations to WJA's 2014 scholarship winners!
$4,000 June Herman Designer/Creator Scholarship Award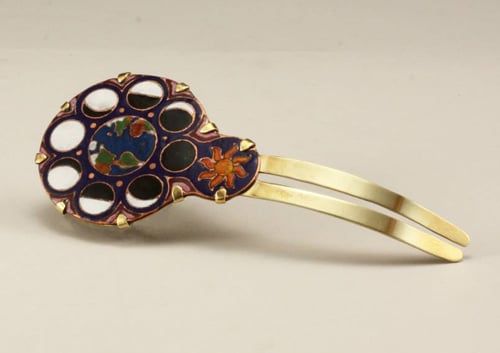 Winner: Melissa Cousins, University of Georgia
Lunar hair pin with enamel on copper and brass by Melissa Cousins • Champlevé enamel features the phases of the moon as they relate to moon's position relative to the sun and earth. The design is set on a brass hair pin with pierced back.
Cousins double majors in jewelry and metals and marine biology. She plans to use her scholarship to study intermediate and advanced metals, advanced jewelry, scientific illustration, and ceramics.
$2,500 Myra Goldstein Designer/Creator Scholarship Award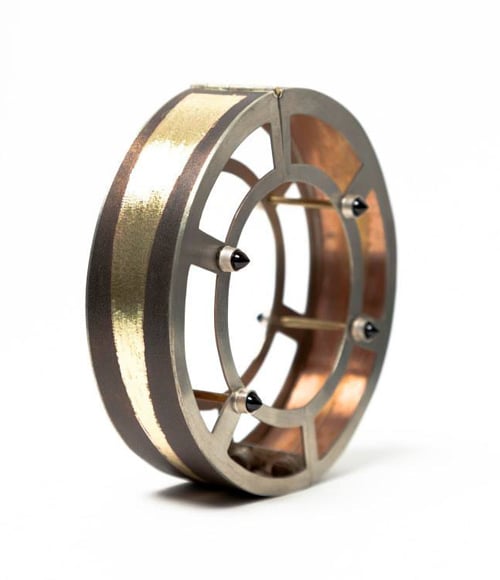 Winner: Sylvie Alusitz, Rochester Institute of Technology
Cage bracelet in brass, shibuichi, sterling silver, and black spinel by Sylvie Alusitz • This piece was created as a protective element for the wearer's wrist. The bracelet hinges open with a magnetic closure and incorporates brass inlay. The stones are screwed in–acting as a structural reinforcement and visual element.
Alusitz is majoring in jewelry/metalsmithing. She is also studying art history, book binding, welding, flame working in addition to the use of wood, glass, fibers, and clay. Alusitz has worked as a bench-jeweler intern and as an assistant jeweler at several wholesale and retail jewelry firms.
$2,000 Marilyn DaSilva Designer/Creator Scholarship Award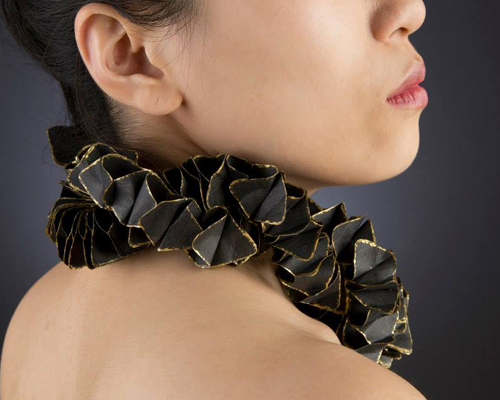 Winner: Eunwha Son, University of Kansas
Reborn necklace with Tyvek (a building material used for housing insulation), and 23-karat gold leaf by Eunwha Son • The piece is inspired by a dream that the artist's mother had (in Korea, mothers-to-be have a specific dream called a "conception dream" that is used to predict the child's gender and characteristics). The dream involved a number of colorful snakes in a river that started from a waterfall with a rainbow over it. Each unit of the piece represents snake scales. The artist found Tyvek to have a paper-like feeling—but it was much stronger than paper. A hint of 23-karat gold leaf adds a high contrast for colors and meanings.
Eunwha Son is in a graduate program in metals/jewelry. She has won a variety of scholarships in both South Korea and the U.S. She also won last year's Myra Goldstein WJA student scholarship and a WJA scholarship in 2012. She's held a number of teaching positions and is currently an instructor for a digital jewelry design class at the University of Kansas.
$1,500 Designer/Creator Scholarship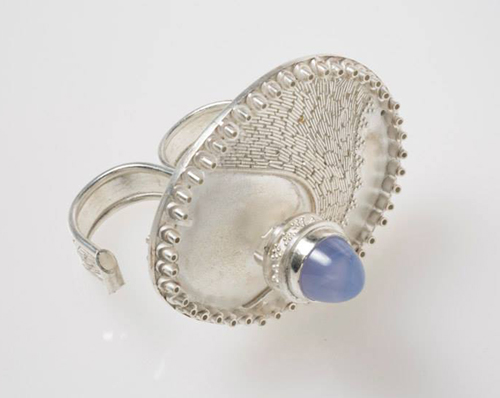 Winner: Katelyn Butler, Missouri State University
Two-finger ring with sterling silver (925), fine silver (999), and blue chalcedony by Katelyn Butler • The ring is die formed, fabricated, and granulated. In this piece the artist wanted to challenge her problem solving skills, craftsmanship, and sense of aesthetics.
Butler is majoring in jewelry/metalsmithing and has already won a scholarship to attend the 2014 SNAG (Society of North American Goldsmiths) conference. She will be using her scholarship to study 3D printing, advanced metalsmithing, contemporary art, and medieval art.
$1,000 Designer/Creator Scholarship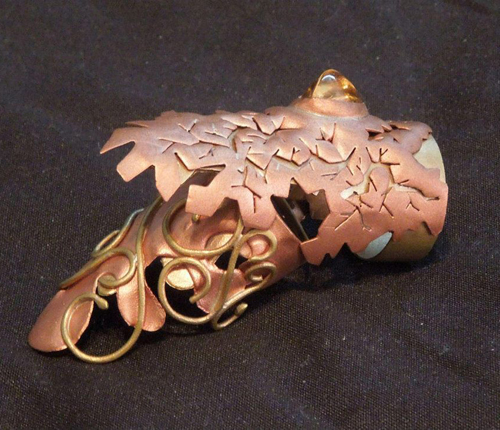 Winner: Amanda Ortman, Virginia Commonwealth University
Armored ring set with copper and mixed metals by Amanda Ortman • Inner ring has a swirled, jigsaw pattern while outer ring has a cut-leaf pattern with a mounted yellow costume stone.
Ortman is majoring in sculpture. Her minor studies include craft and material and art history. She plans to use her scholarship towards classes in ancient Peruvian textiles, advanced sculpture, and math modeling.
$1,000 Designer/Creator Scholarship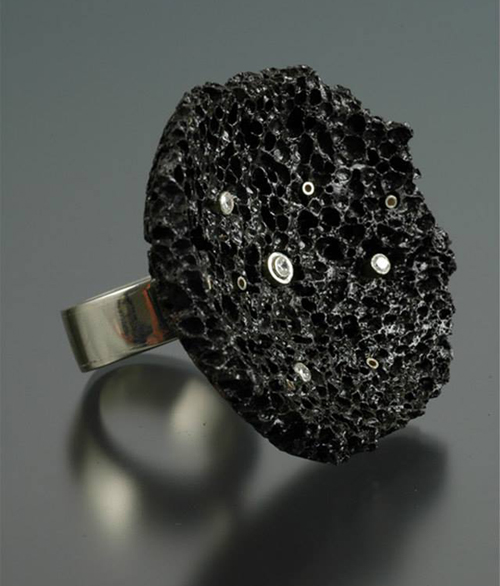 Winner: Lopeeta Tawde, University of Kansas
Pumice stone ring in sterling silver, nickel silver, and 2mm cubic zirconia stones by Lopeeta Tawde • The artist carved the pumice stone into a concave disc shape and set the stones in the center to create contrast.
Tawde is pursuing a master of fine arts degree in metalsmithing and jewelry design. She plans to use her scholarship towards classes in the Matrix CAD design program, gemology, and jewelry history. She has won a variety of awards and scholarships, both in the U.S. and India, and has been a graduate teaching assistant at the University of Kansas and a teaching assistant at Oklahoma State University. Her ultimate goal is to work as a jewelry artist and pursue a career in academia.
$2,000 Designer Scholarship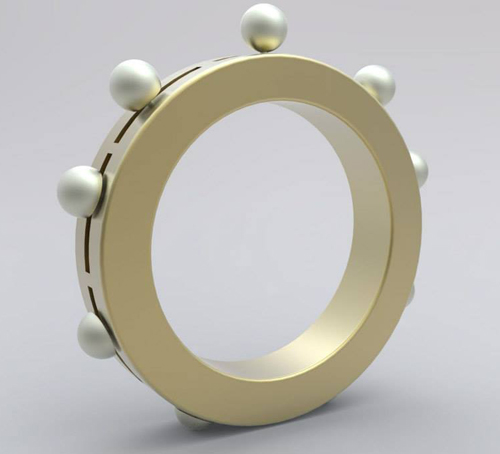 Winner: Maggie Horvath, Savannah College of Art and Design (SCAD)
Moving Bangle CAD rendering in satin nickel silver and brass by Maggie Horvath • The bangle is interactive and the wearer is able to use this piece as a "fidget" piece for fun and stress relief. Each of the circular forms extending from the bangle moves in a separate track. This allows the wearer to constantly move and play with the piece.
Horvath is pursuing a master of fine arts degree in jewelry. She is currently studying contemporary jewelry and 3-D visualization and works as a graduate teaching assistant for creative thinking. The artist has been accepted in a variety of juried exhibitions, including the SCAD exhibit in the American Craft Council Show in Atlanta, and the Kutztown University exhibit at the Philadelphia Museum of Art Craft Show.
$2,000 Non-Designer Scholarship
Winner: Dorothy Cheng, West Dean College, UK
Cheng is pursuing a master's degree in the conservation of metalwork at West Dean College in England. She earned a BFA degree in metal design from the University of Washington and was a studio assistant to goldsmith Lori Talcott and worked as maker of production, custom, and art jewelry. Cheng would like to continue her jewelry studio practice while freelancing as a metalwork conservator.
Related blogs:
AGTA Announces 2014 Spectrum and Cutting Edge Award Winners