By
Erika Winters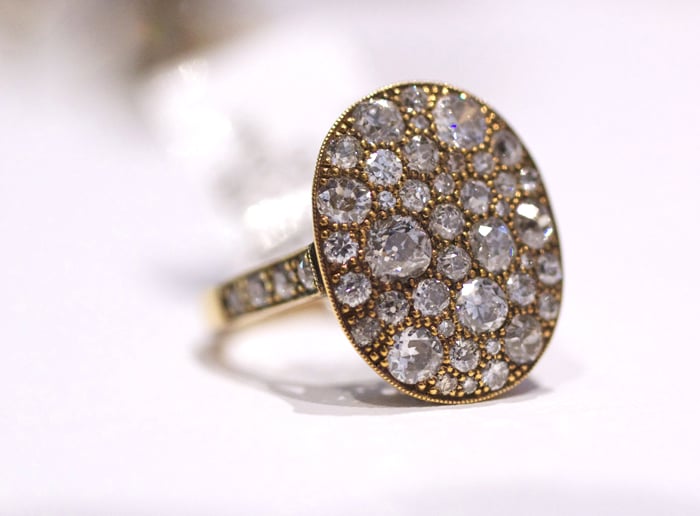 Single Stone – Cobblestone Collection – ring with approximately 4 carats of old-cut diamonds in 18k yellow gold
Los Angeles-based jeweler Single Stone is known for their vintage-inspired bridal collection set with stunning old-cut diamonds. But they also create unique contemporary jewelry that brings an Old World sensibility to the 21st century. The Cobblestone collection is one that really captures our attention, as it refreshes the "cluster" concept with a nod to Victorian jewels.
With a mix of old-mine cut, old European cut, and antique cushion-cut diamonds, the collection's rings, earrings, and necklaces impart the haphazard charm of centuries-old cobblestone streets in Europe.
Single Stone makes the Cobblestone line in multiple shapes and sizes, but the grander pieces tend to catch our attention. These jewels have an intense sparkle factor. And the mixed diamond shapes capture light in a way that perfectly symmetrical pavé-diamond jewels do not. It's this quirkiness and character that makes the line so interesting in addition to the rich "antiqued" yellow gold that offsets the diamonds.
We chatted with owner Ari Madilian about the Cobblestone line at the Las Vegas Antique Jewelry and Watch Show earlier this summer. He talked about the cross (shown below) in particular–telling us that though the cross is an obvious religious symbol, many customers who aren't necessarily religious have shown great interest in the piece. Many vintage jewelry collectors also collect crosses, as there are some incredible examples among antique dealers. With antique charm, the cross rounds out the collection that includes soft cushion and oval outlines filled with old diamonds.
Single Stone also sets their customers' heirloom diamonds in Cobblestone designs–a lovely way to breathe new life into old family stones! Enjoy some of our favorite Cobblestone pieces from the Vegas antique show!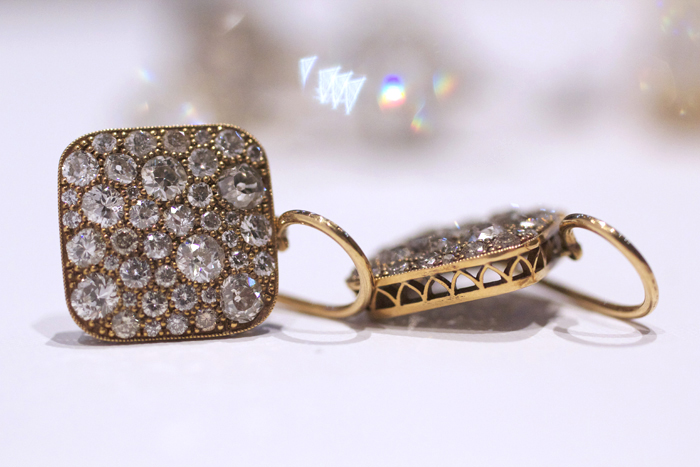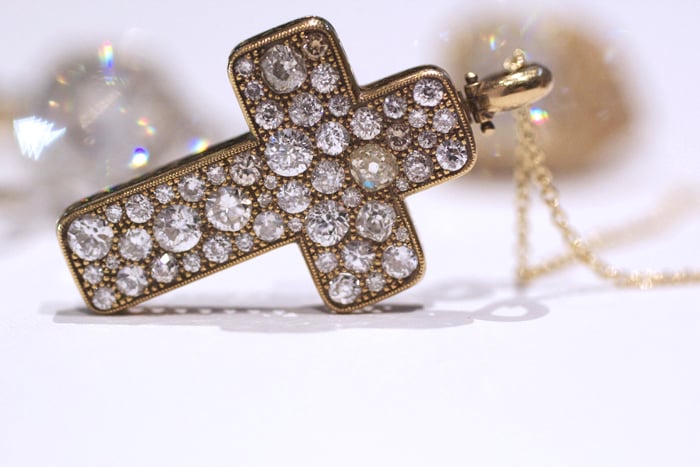 Top: earrings with approximately 4 carats of old-cut diamonds • Bottom: cross pendant with 2.5 carats of old-cut diamonds in 18k yellow gold
Images by Erika Winters at the 2014 Las Vegas Antique Jewelry & Watch Show
Related Blog & Forum Topics:
pretty please show me your Single Stone rings!