By
Erika Winters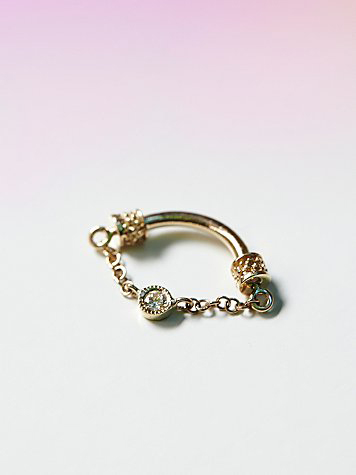 Venus by Maria Tash diamond septum ring at Free People
Is a septum ring next on your jewelry list?
Septum jewelry is nothing new. People have adorned that tiny divide between their nostrils for millennia. But septum rings are often associated with "alternative" piercings from the 80s and 90s–drumming up images from the punk (and post-punk) musical subcultures from those decades. And now? This form of nasal bling is having another moment fueled by celebrity exposure. A great slide-show at Lucky magazine shows them on the likes of Scarlett Johansson, Jessica Biel, Rihanna, and many more.
Today's trending styles are more delicate and refined, like this J. Colby Smith 14k rose-gold septum chain mentioned at Lucky. The J. Colby Smith chain is shown on a model wearing no other jewelry. It's a clean, minimalist look that has little continuity with old-school septum styles.
Some of the styles shown on Lucky are pretty simple and made solely of metal. But we imagine some blinged-out versions with pavé diamonds or even with little dainty diamond drops–like the Venus by Maria Tash septum spinner made in 14k yellow gold (shown above) available at Free People and the designer's website.
We love seeing reimagined jewelry trends, but we know that some just aren't for everyone–especially when it comes to piercings. But with septum rings, looks can be tried without actually piercing the flesh. Many simply clip on for people with a (very reasonable) fear of piercing pain. So piercing or clip-on, what do you think of the septum-jewelry trend? Yay or nay?
Related:
Poll: Jewelry Implants in Your Eye – Yay or Yikes?
On Trend: Earrings for the 4th of July – Singles, Mismatched, Cuffs & Climbers