By
Erika Winters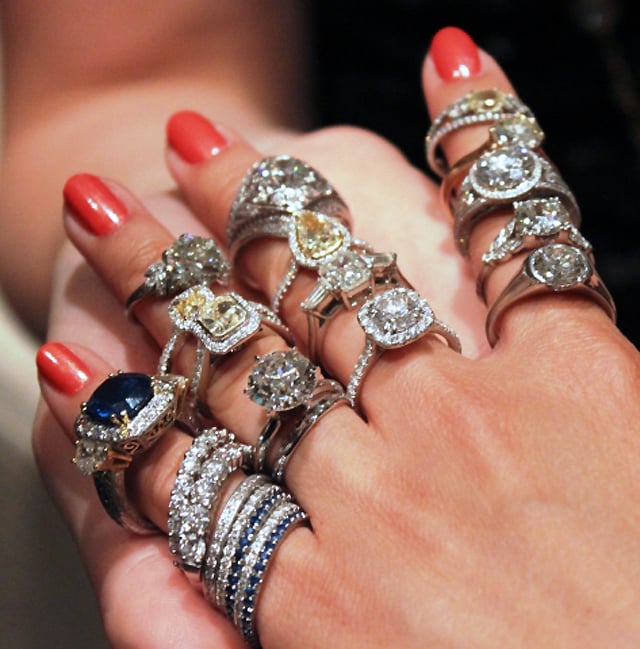 Image by Mayk: Pricescope member rings from our 3rd annual get together.
No, they are not all owned by the same person, but we spy some single-owner multiple rings in this group!
Victoria Beckham has 13 engagement rings. How about you?
When we read about Victoria Beckham's 13 engagement rings valued at a whopping $6.5 million, we didn't bat an eye. Multiple engagement rings are par for the course among Pricescopers!
And we can't really help ourselves can we? Why be married (ha!) to one engagement ring for the rest of your life? Now we imagine that Ms. Beckham's rings aren't all technically engagement rings, but she is often pictured wearing one of her 13 honking rings on that special 4th digit.
We love that folks are sentimental about their first engagement ring, and it's totally cool when people wear that ring for a lifetime. But in the age of upgrades (and let's face it, tastes change!) and women contributing to or buying their own engagement rings, we imagine more and more women mixing up their wedded style. After all, it's the symbolism of the ring–rather than the jewel itself–that marks the union of two individuals.
Whether you've upgraded your ring or simply have additional rings–like celebratory anniversary rings or "just because" rings–do you like to switch it up?
Do you have multiple engagement rings? Cast your vote!
Related:
Jewel(s) of the Week – Three Times the Bling
Forum Engagement Ring Folder/Eye Candy Thread