Neiman Marcus and Target are teaming up for the holidays. The upscale/discount duo will be offering a limited-edition gift collection (including jewelry) by 24 luxury designers, including Diane von Furstenberg, Judith Leiber, Tory Burch, and Carolina Herrera. Prices will range from $7.99 to $499.99 with most items less than $60. The collection will be featured at both Neiman Marcus and Target stores starting on December 1.
So, what do you think? Odd couple or match made in heaven? Target is no stranger to designer labels–having offered various limited edition designer collections. Last fall's Missoni mania crashed the Target.com site, while in store, women broke out in fisticuffs over the designer's popular zig-zag pattern. Neiman Marcus regularly carries these designers and Target's vast marketing will connect them to more consumers.
Brand purists may balk, as they did when Temple St. Clair offered a jewelry collection for the discount retailer. The same followed for Neil Lane when he collaborated with Kay Jewelers. But consumers–including those on Pricescope–have argued that they are perfectly capable of distinguishing the original luxury brand from the discount offshoots. These collaborations are only gaining in popularity, and actuarial insights will trump any brand "purity."
Now if BVLGARI, say, collaborated with Walmart, we might be embarking on new territory, but a Neiman Marcus and Target pairing seems par for the course. Just remember to put the "jay" on that "Tar."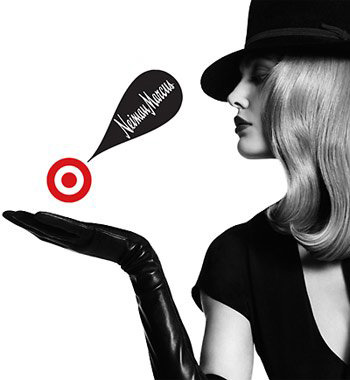 Neiman Marcus and Target will offer a holiday collection featuring 24 members of the Council of Fashion Designers of America (CFDA).
Vera Wang and Zales to Launch Bridal Jewelry Collection