By
Erika Winters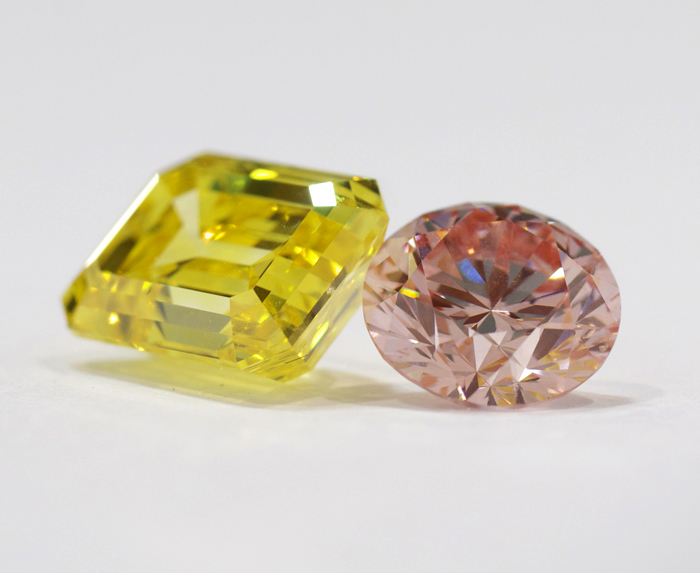 Yellow and pink lab-grown diamonds from the Nurture by Reena jewelry collection • Image by Erika Winters
Would you buy a lab-grown diamond or a jewelry piece made with lab-grown diamonds?
A story published today in National Jeweler addresses the consumer's perspective on lab-grown diamonds, and it's a mixed bag. According to National Jeweler editor-in-chief Michelle Graff, some consumers didn't know that diamonds could actually be grown in a lab, while others were excited by the prospect. And some disliked the term "lab-grown" entirely, though the Federal Trade Commission dictates the use of that term, and similar terms like "laboratory-created," with the word "diamond" for full disclosure.
About six years ago, Pricescope launched a discussion forum on lab-grown diamonds, and though the forum has garnered some traffic and activity, our forums devoted to earth-mined diamonds dominate this site. This isn't all that surprising considering how much our forum culture revolves around "natural" diamonds and colored gemstones. But as lab-grown diamonds are being produced more efficiently and in larger sizes (in the past they were slow to grow and often only available in smaller carat weights), we imagine the marketing of these gems will improve and reach more consumers.
And it already has. Just a couple of weeks ago, lab-grown diamond company Gemesis Inc. rebranded itself as "Pure Grown Diamonds: Certified & Sustainable," though the site still discloses that its diamonds are lab-grown. And we are also seeing jewelry designers like Reena Ahluwalia create collections using lab-grown diamonds exclusively. We saw her new Nurture by Reena collection at JCK last month, which combines lab-grown diamonds with wearable technology–a look into the future of jewelry.
But what exactly are lab-grown diamonds? People still equate these man-made gems with diamond simulants like cubic zirconia. So for those new to lab-grown diamonds, they are real diamonds with essentially the same chemical, physical, and optical characteristics of earth-mined diamonds. They are simply grown in a lab. And they are not an inexpensive substitute for earth-mined diamonds. They are expensive to produce and are a luxury product just like their natural counterparts.
Considering how many people are new to lab-grown diamonds or prefer earth-mined diamonds, how many of you would actually buy a lab-grown diamond? Please cast your vote!
Related:
Why Aren't Synthetic Diamonds Cheaper?