By
Erika Winters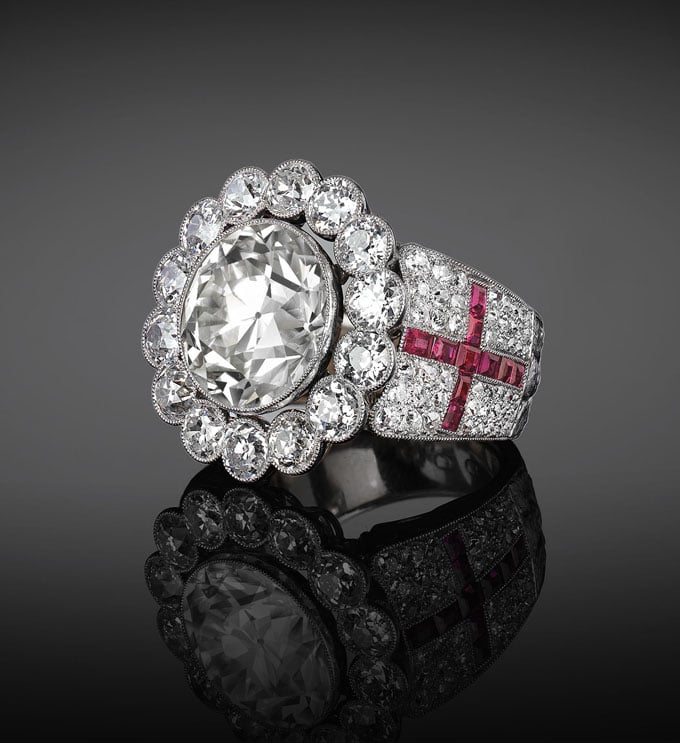 Papal ring set with a 13-carat diamond in platinum • Image courtesy of M.S. Rau Antiques
Two rare diamond jewels given to Pope Paul VI, who reigned from 1963 to 1978, are being offered for sale by M.S. Rau Antiques for a cool $1.9 million. The jewels include a ring set with a 13-carat diamond and an intricately detailed cross set with 60 carats of diamonds and Colombian emeralds.
"The cross bears a stamp of 'Cassio' which refers to Cassio Studios, one of the artisan ateliers at the service of the Vatican," said Bill Rau, owner of M.S. Rau Antiques. "The cross has twelve main diamonds totaling over 60 carats. Smaller old mine cut white diamonds, ranging in weight from 8.66 carats to 3 carats, are placed all over the front of the cross and are nestled between scrolls and leaves that are filled with Columbian emeralds."
The cross, called a "pectoral" cross, measures seven inches long and is meant to be worn on the chest, suspended from a substantial chain. The cross alone is valued at $1.25 million.
The platinum ring, set with a 13-carat antique-cut diamond, is surrounded by an additional 3.5 carats of diamonds. Ruby crosses adorn each side of the ring, which is valued at $650,000.
Both jewels are engraved with the Christian Chi Rho symbol, indicating that they were created by Vatican jewelers in the early 20th century with diamonds and colored gems from the Vatican's collection.
The papal jewels have a unique history, as Pope Paul VI requested them to be auctioned after a 1965 visit to the United Nations, where he addressed the General Assembly. The pieces were sold to Chicago jeweler Harry Levinson, who purchased them for $64,000. The funds from the sale were given to four UN agencies. The two jewels were bought and sold many times, according to a statement from M.S. Rau Antiques. And at one point they were owned by the iconic American daredevil, Evel Knievel.
Visit M.S. Rau Antiques for more information.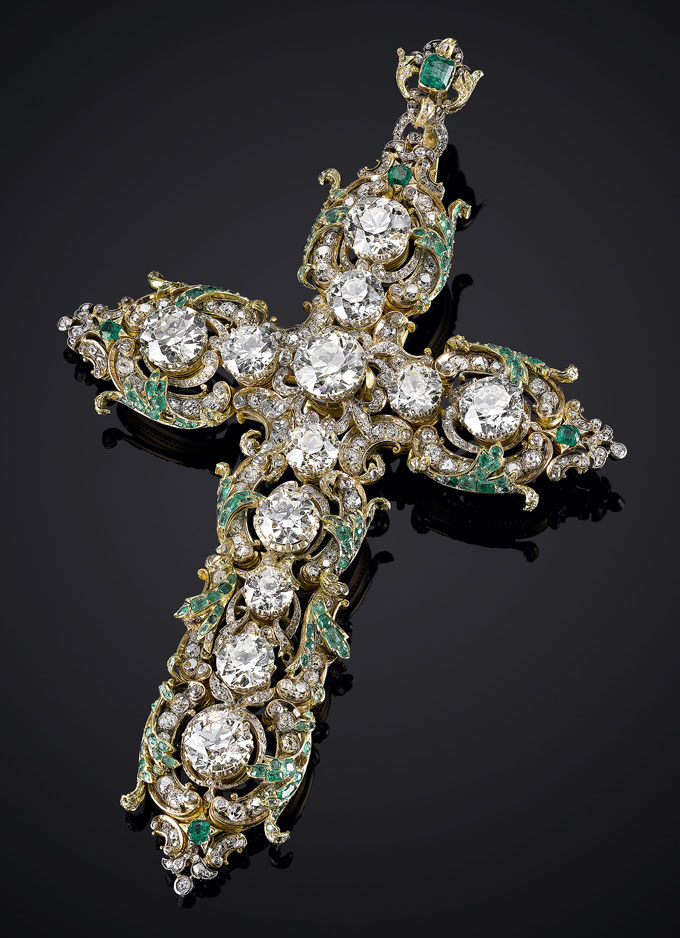 Pectoral cross presented to Pope Paul VI with 60 carats of diamonds and Colombian emeralds • Image courtesy of M.S. Rau Antiques
Related:
New Pope, New Ring: CBS News Video on the Creation of the "Fisherman's Ring"
M.S. Rau Antiques Debuts 10-carat "Royal Blue" Diamond