By
Erika Winters
From the $500 million Hair & Jewel campaign to the most expensive watch in the world, Graff Diamonds plays on our wildest diamond fantasies–this time at Baselworld 2014. The iconic jeweler has unveiled a $55 million multicolored diamond watch at the Baselworld Watch and Jewelry Show, which opened today.
Aptly dubbed the "Graff Hallucination," the watch was created with over 110 carats of fancy colored diamonds. Graff Diamonds unveiled the watch for the company's first exhibition at the Baselworld show.
"The Graff Hallucination is a sculptural masterpiece; a celebration of the miracle of colored diamonds. For many years I have thought about creating a truly remarkable watch that illustrates our all consuming passion for diamonds. The Hallucination has made my diamond dream a reality," said Laurence Graff, chairman of Graff Diamonds.
According the Graff Diamonds, the watch is the most valuable in the world. And Graff's team of gemologists, designers, and master craftsmen worked on the creation for thousands of hours.
As you can see below, the ladies' watch is a hypnotic rainbow of some of the rarest fancy color diamonds in the world. We can only imagine what this watch is like in person, but suffice to say, we are hallucinating…and hyperventilating!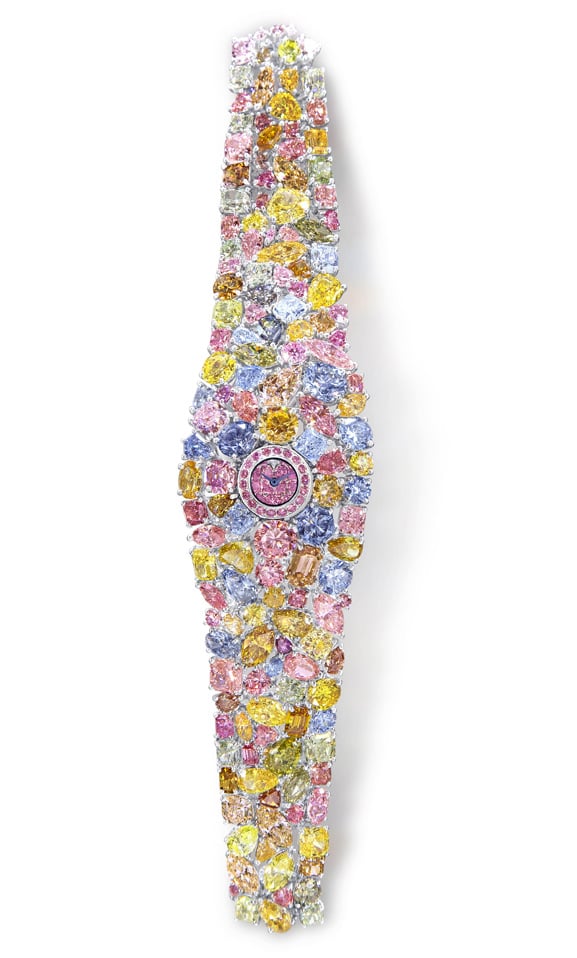 Graff Diamonds unveiled the $55 million "Hallucination" diamond watch on the opening day of Baselworld 2014 • Image Graff Diamonds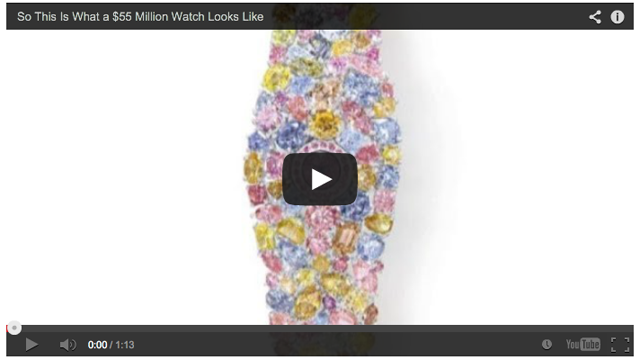 Video requires Flash. Watch at YouTube
Related:
Video: Graff's Half-Billion Dollar "Hair & Jewel" Campaign
Graff Unveils $100 Million Diamond Peacock

Trip on This: Shawish Creates the World's Most Expensive "Magic Mushroom" USB Key