By
Erika Winters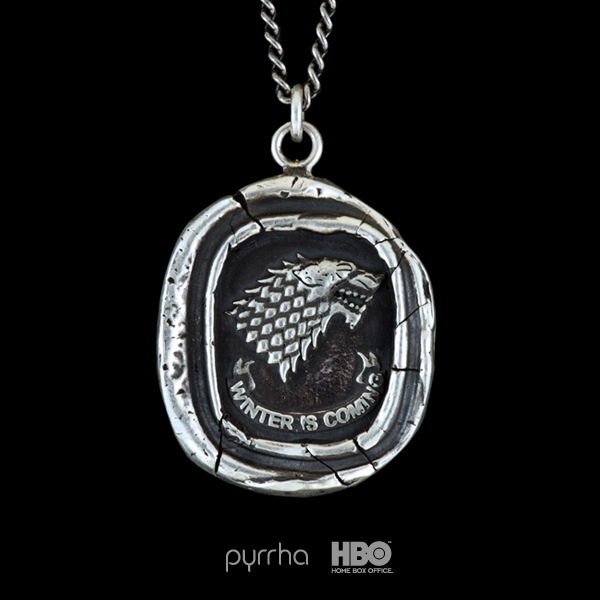 Winter is coming. Game of Thrones House Stark Talisman Necklace • From Pyrrha & HBO
It's exciting to watch popular culture influence jewelry trends. And while retailers bump up their marketing of existing pieces to meet trend demand (think Art Deco styles and The Great Gatsby), it's particularly satisfying to see show/jewel collaborations that deliver both style and symbolism. So last month, when Vancouver-based jewelry company Pyrrha and HBO announced their Game of Thrones jewelry collection, we wanted to learn more.
Pyrrha creates signature talisman necklaces from 18th- and 19th-century wax seals in reclaimed metals including sterling silver, 14k gold, and bronze. It's this Old World aesthetic that brings to life the essence and style of Game of Thrones.
The collection, which is available for pre-order at Pyrrha and will be available at HBO's online shop, is timed to debut with the Game of Thrones season 4 premiere, which airs on April 6 at 9 p.m. EDT on HBO. (Watch the latest trailer below.)
Pyrrha's Game of Thrones collection includes unisex talisman necklaces and rings featuring the company's fresh take on the sigils of the show's powerful family houses including Westeros, Targaryen, Stark, Baratheon, Tyrell, Lannister and Greyjoy. Prices range from $98 to $900. The talismans shown in this blog retail for $226 and come with a 22-inch long chain.
"We were thrilled when HBO approached us to create an official Game of Thrones jewelry line," said Pyrrha designer Wade Papin. "While designing the pieces, we felt it was important to embrace the spirit of this groundbreaking series while still retaining the signature Pyrrha style."
Game of Thrones is on its way to being the most watched television series at HBO. So we anticipate seeing Pyrrha's talismans worn by fans very soon.

Game of Thrones Collection Talisman Necklaces • From Pyrrha & HBO
"The historically-inspired aesthetic of Pyrrha's work made them a perfect match for a Game of Thrones jewelry line," said Jeff Peters, Manager of Global Licensing for HBO. "Fans of the show will be very excited to represent their favorite noble houses with these expertly crafted pieces."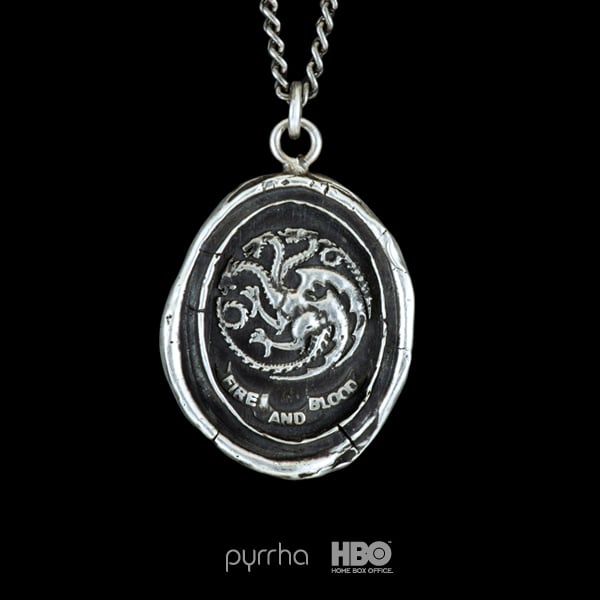 Game of Thrones House Targaryen Talisman Necklace • From Pyrrha & HBO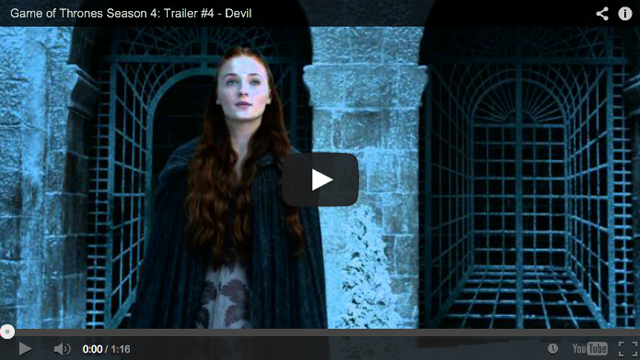 Video requires Flash. Watch at YouTube
Related:
"Game of Stones" to Debut on Discovery Channel

Jewel of the Week – A Ring of Ice and Fire

Claudio Pino Adorns Stanley Tucci in "The Hunger Games: Catching Fire"