By
Erika Winters
While there were many gorgeous looks at the 2014 Oscars, we adored the amazing statement jewels worn by Cate Blanchett, Naomi Watts, Charlize Theron, and other luminaries. We were ready for bold looks following the tamer ensembles from the 2014 Golden Globes, and we were not disappointed.
Diamonds: They simply dominated the red carpet. And some took our breath away! Charlize Theron wore a $15 million diamond drop necklace from Harry Winston that made our hearts skip a beat. And Angelina Jolie's 42-carat diamond earrings from Robert Procop were so stunning that we almost forgot her emeralds drops from 2009–but not quite. (Who are we kidding? The emeralds were everything.) Naomi Watts shined in a web-like Bulgari diamond necklace. And Jessica Biel glittered in an array of Tiffany jewels, including a gorgeous aquamarine and diamond bracelet…which leads us to color, or the lack thereof…
Color: While bold, bright color was conspicuously absent from the main looks on the red carpet, Oscar-winner Cate Blanchett stole the show in an amazing pair of opal and diamond earrings from Chopard. And Biel's hints of Tiffany blue were duly noted.
Gold: She took home the golden statuette, and Oscar-winner Lupita Nyong'o stole our hearts, as she floated on a cloud of blue by Prada with gold jewels by Fred Leighton. Her unique crescent-shaped earrings and headband lit up her face while a gorgeous gold serpent wound its way around her wrist. She wore vintage turquoise and opal rings that were perfect with her gown.
There were many looks to love! Check out our favorites from the 86th annual Academy Awards.
Cate Blanchett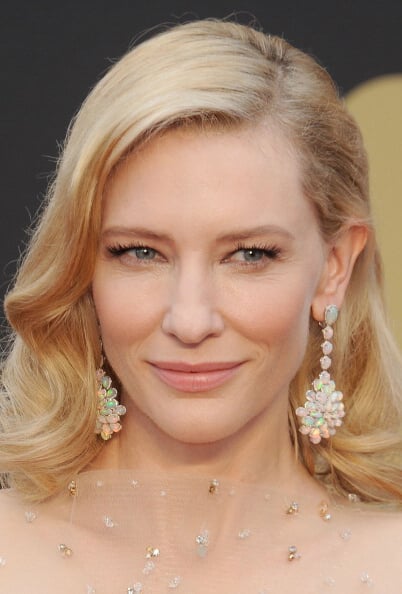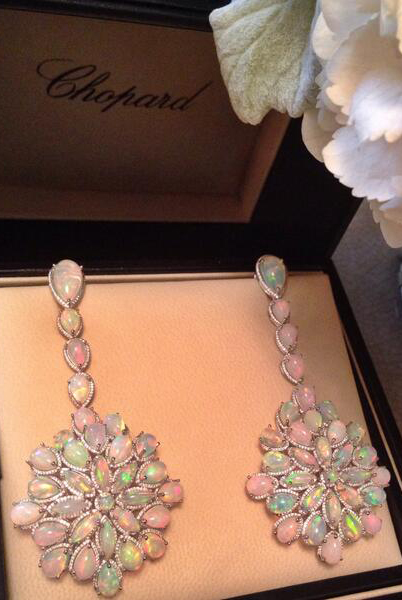 Oscar winner Cate Blanchett (Blue Jasmine) stunned on the red carpet in opal and diamond earrings from Chopard. Perfection! Top: WireImage • Bottom: via Chopard
Naomi Watts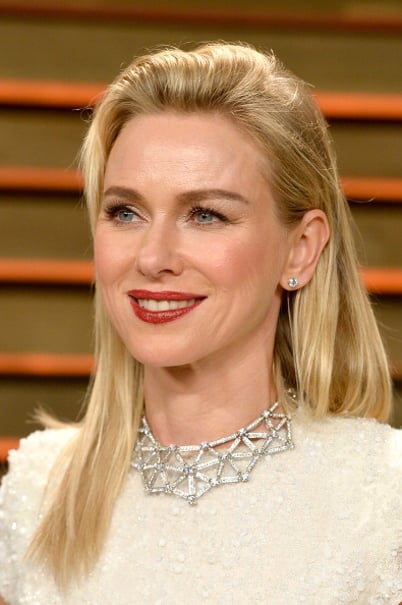 Naomi Watts stunned in Bulgari diamond jewels. The web-like diamond necklace was among our favorite diamond looks from the night. Getty Images
Charlize Theron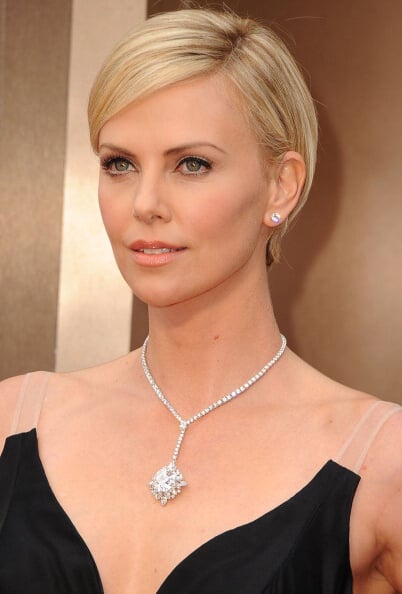 Jaws dropped when Charlize Theron stepped out on the red carpet wearing a $15 million diamond necklace from Harry Winston. Now this is Oscar jewelry. WireImage
Angelina Jolie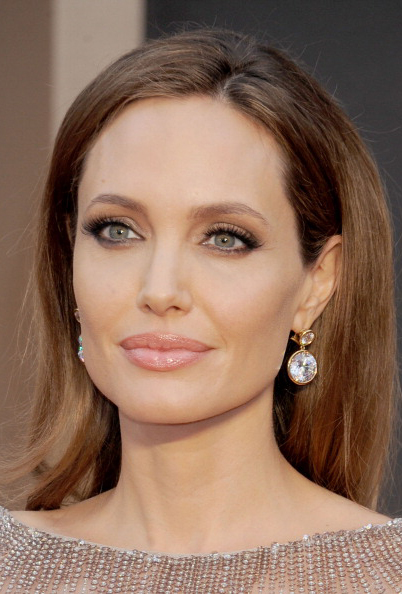 No one wears a pair of simple (and huge) earrings like Angelina Jolie. Her 42-carat diamond drops from Robert Procop are exactly why we love her on the red carpet. WireImage
Jessica Biel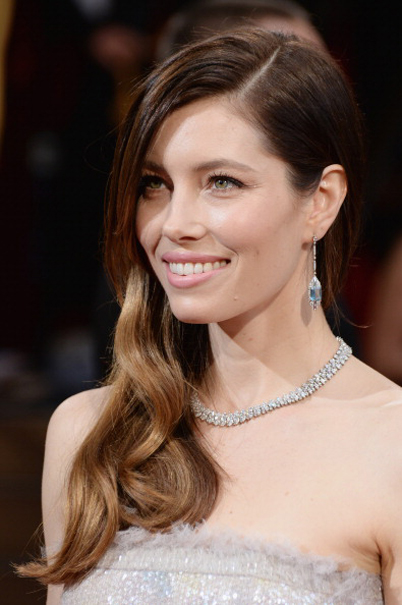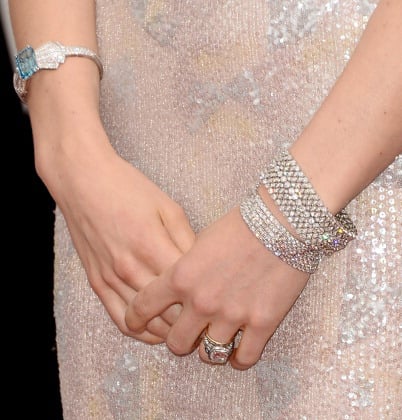 Jessica Biel was dripping in Tiffany jewels… Top: FilmMagic • Bottom: Getty Images
Lupita Nyong'o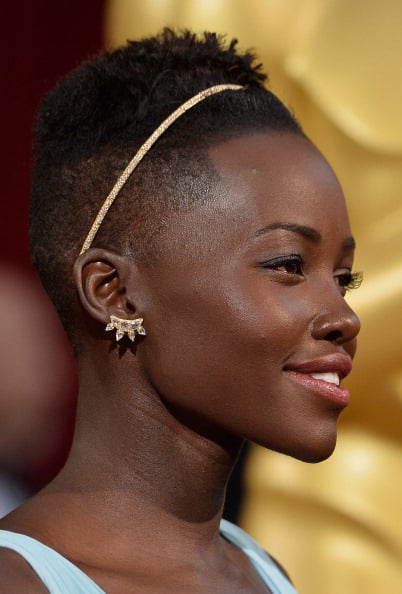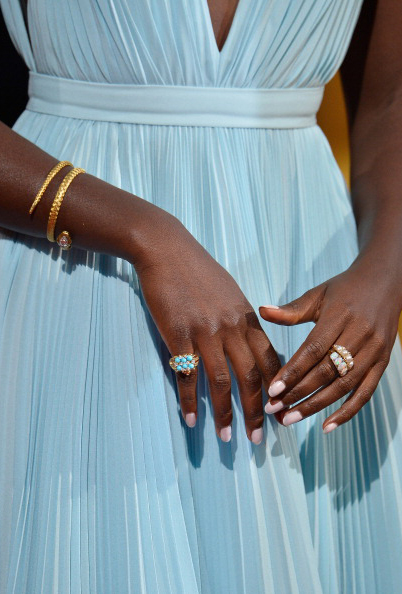 Golden woman of the night–Oscar winner Lupita Nyong'o (12 Years a Slave) was stunning in Prada and gold jewels by Fred Leighton. Getty Images
Karen O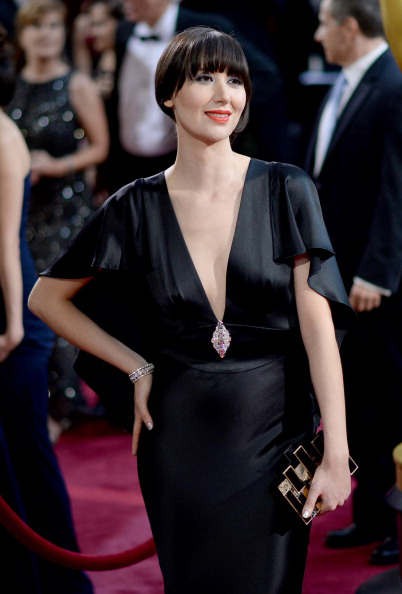 Singer Karen O was pure elegance in a black gown and a platinum and diamond brooch by Neil Lane. Getty Images
Johnny Weir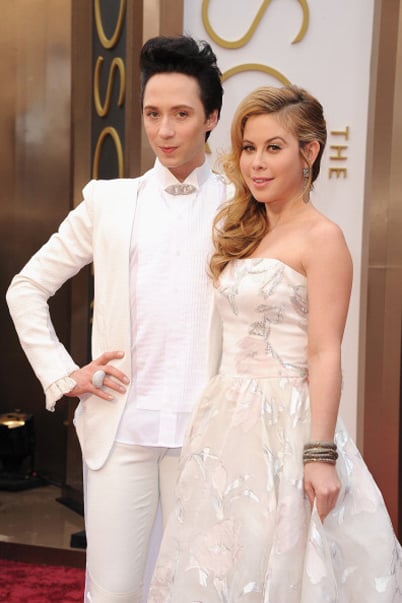 Figure skater Johnny Weir (with Tara Lipinski) wore a diamond brooch by Le Vian and a huge statement diamond ring by DeMarco. WireImage
Jared Leto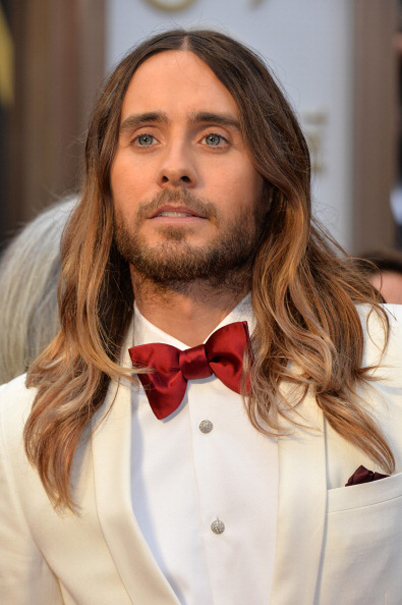 Oscar winner Jared Leto needs no jewelry–just kidding! He wore a platinum and diamond dress set by Neil Lane. WireImage
More Celebrity Jewelry
Beyoncé's Massive Diamond Rings at the 2014 Grammys

Golden Globes 2014 Jewelry Favorites

Why Kim Kardashian's Engagement Ring from Kanye West is Unique