By
Erika Winters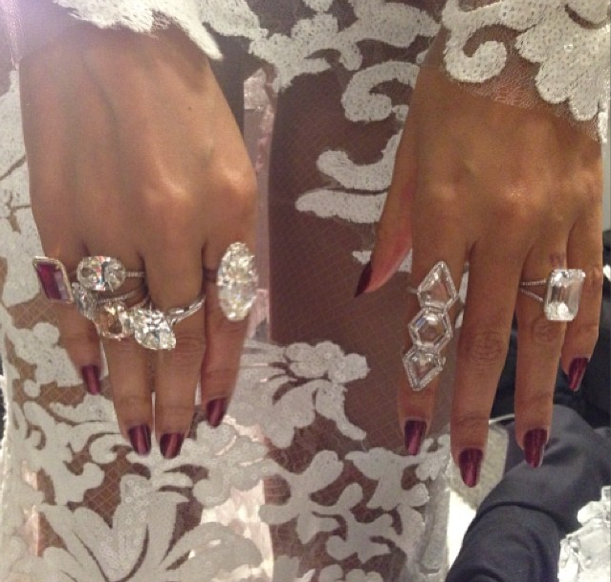 Beyoncé's massive diamond rings at the 2014 Grammy Awards designed by Lorraine Schwartz • Via Lorraine Schwartz's Instagram
Are you following Lorraine Schwartz on Instagram? Because the celebrity jeweler's page is your gateway to jaw-dropping bling. Her pics from the 2014 Grammy Awards include the one above of Beyoncé wearing massive diamond rings–from her 18-carat emerald-cut engagement ring from Jay-Z to an enormous oval-cut diamond and a stunning triple rose-cut diamond ring. The jaw is still on the floor.
With exciting cocktail rings and hand jewels worn by Madonna and Cyndi Lauper, many of this year's Grammy jewels were focused on the hand. Singer and 50 Shades of Grey actress Rita Ora also wore stunning cocktail rings–including some of her own family heirlooms mixed with rings by Lorraine Schwartz.
But back to Beyoncé. Her diamonds are exactly what we expect–and want to see!–at the Grammys. It's fantasy. While the Golden Globes and even the Oscars are often about "tasteful" balance, we want to see performers pull out all the stops at the Grammys. So yep, Beyoncé wins Best Bling from us.
More Celebrity Jewelry:
Golden Globes 2014 Jewelry Favorites

Why Kim Kardashian's Engagement Ring from Kanye West is Unique


Ashlee Simpson's Engagement Ring Is Not Traditional and That's A-OK