By
Erika Winters
Last Monday on Twitter, Ashlee Simpson announced her engagement to actor Evan Ross–Diana Ross' son–with a picture of her wearing her new engagement ring by Neil Lane. According to People, the ruby and diamond ring was inspired by a vintage piece from Lane's archival collection. Ross and Lane then worked together on a new design with both vintage and contemporary elements.
From People:
"Evan was really, really sweet and he was looking for something beautiful, a unique ring that said everything: love, romance, beauty, character. He didn't want anything traditional," Lane says.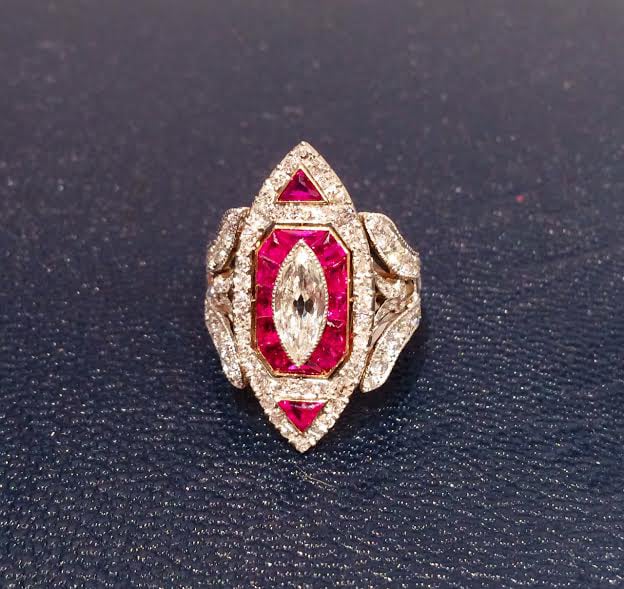 Ashlee Simpson's enagagement ring from Evan Ross – Image courtesy of Neil Lane
Is it a traditional engagement ring? No. And that's what makes it unique. The ring is set with an antique marquise-cut diamond–which is gorgeous–and the deco-esque shape hearkens to old Hollywood. But if you read the comments about the ring on some celebrity sites, you'll see that people are passionately divided about the style.
Why? Most engagement rings sold today consist of a round brilliant cut diamond in a simple solitaire setting. And though halo and vintage-inspired designs are currently popular, the round diamond solitaire continues to reign supreme. But that look doesn't fly with all brides-to-be, as some want to wear something bold or unique.
My basic engagement-ring tenet is that there are *no rules* when it comes to ring designs. Jewelry is personal, and it's up to the couple to find the right style for them. And really, when it comes to celebrity engagement rings, I'm just not surprised when a couple opts for something different. Actually, it's pretty fun and exciting.
What do you think of Ashlee Simpson's engagement ring? Cast your vote!
Related topics:
Golden Globes 2014 Jewelry Favorites
Why Kim Kardashian's Engagement Ring from Kanye West is Unique