By
Erika Winters
If you wanted to see celebrities dripping in jewels at last night's 71st annual Golden Globe Awards, unfortunately it didn't happen. The jewelry at the 2014 Golden Globes was a little more restrained than in previous years (think diamond studs, bare necks, and small rivière necklaces), but there were several standout pieces on the red carpet that we loved.
Necklaces: Our favorites included the ensemble of Golden Globe winner Amy Adams, who wore a 30-carat diamond necklace by Lorraine Schwartz. The piece was a perfect companion to her red Valentino gown. We loved her look, since it was fresh with a nod to 70s glamour. We also loved the stunning Bulgari diamond necklaces worn by Naomi Watts and Jessica Chastain. And thank goodness Sofia Vergara always opts for big jewels on the red carpet–her Lorraine Schwartz necklace stood out among many tame looks.
Earrings: Some of the best earrings at the Globes worked perfectly with the gowns. Cate Blanchett's Chopard stunners followed the curves of her lace Armani gown. Emma Roberts' Neil Lane turquoise and diamond earrings not only provided lovely color, but the drop shapes worked beautifully with her black Lanvin gown. And Maria Menounos' earrings by Jennifer Fisher complemented the angled cutouts shaping her Max Azria Atelier dress.
Rings: Rings are often so hard to see on the red carpet, but Paula Patton's cocktail ring by David Yurman stunned. Jennifer Lawrence's sugarloaf emerald ring from Neil Lane also caught our attention, as it looked so fun to wear.
Check out some of our favorite looks from the 2014 Golden Globes.
Necklaces
Amy Adams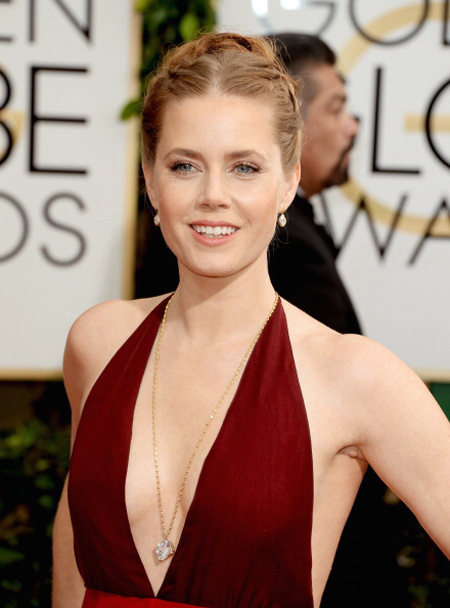 Golden Globe winner Amy Adams channeled American Hustle glamour in jewels by Lorraine Schwartz, including an incredible 30-carat diamond necklace. Getty Images
Naomi Watts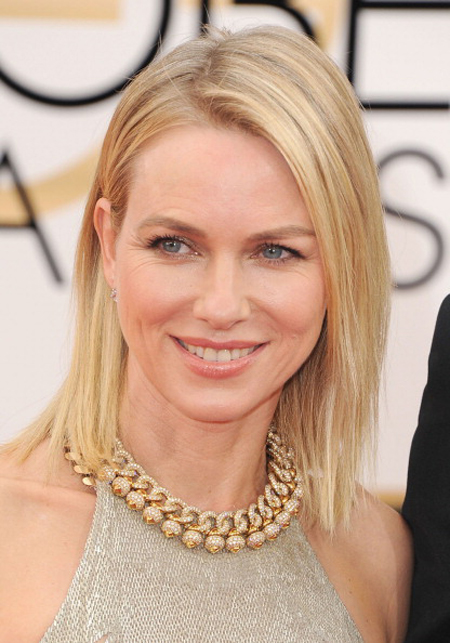 Naomi Watts stunned in Bulgari jewels and a gold gown by Tom Ford. The gold and diamond necklace was one of the best jewels at the 2014 Golden Globe Awards. WireImage
Sofia Vergara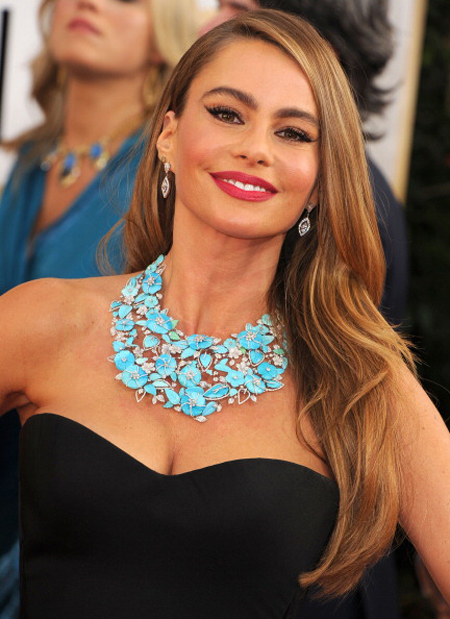 Sofia Vergara stunned in a statement necklace by Lorraine Schwartz. WireImage
Jessica Chastain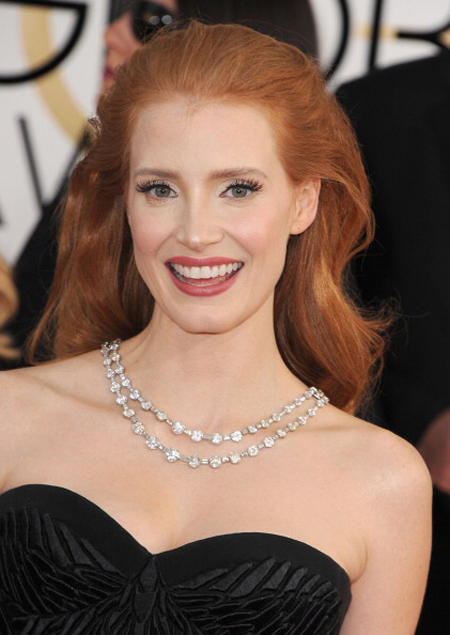 Jessica Chastain wore Bulgari diamonds with her black Givenchy gown. WireImage
Earrings
Cate Blanchett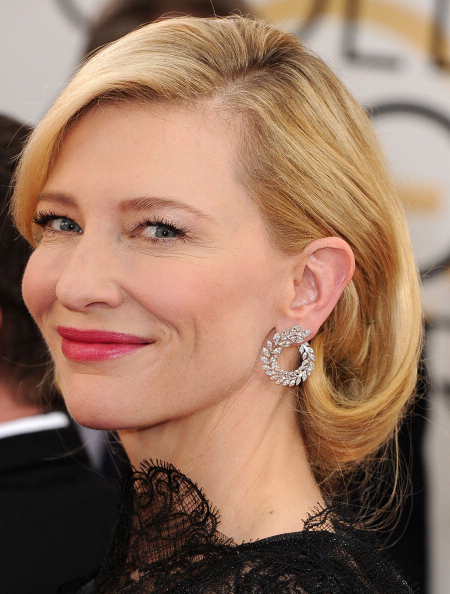 Golden Globe winner (Blue Jasmine) Cate Blanchett's Chopard diamond earrings were perfect with her lace Armani gown. WireImage
Emma Roberts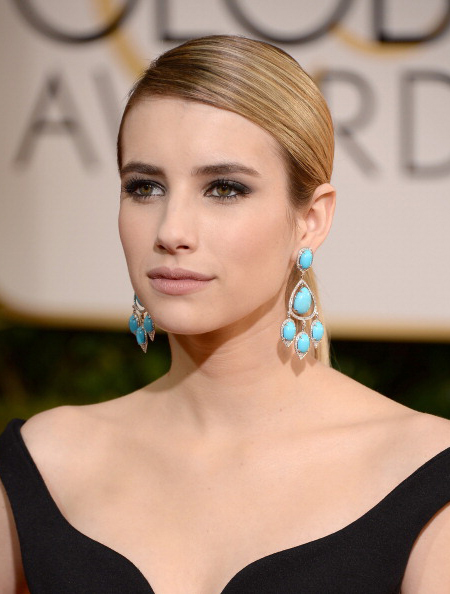 Emma Roberts wore turquoise and diamond earrings from Neil Lane. Getty Images
Helen Mirren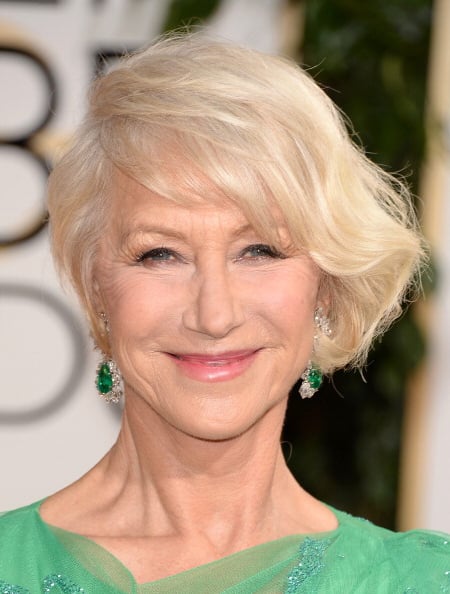 Helen Mirren–who always looks fabulous–shined in Bulgari emerald and diamond earrings. Getty Images
Maria Menounos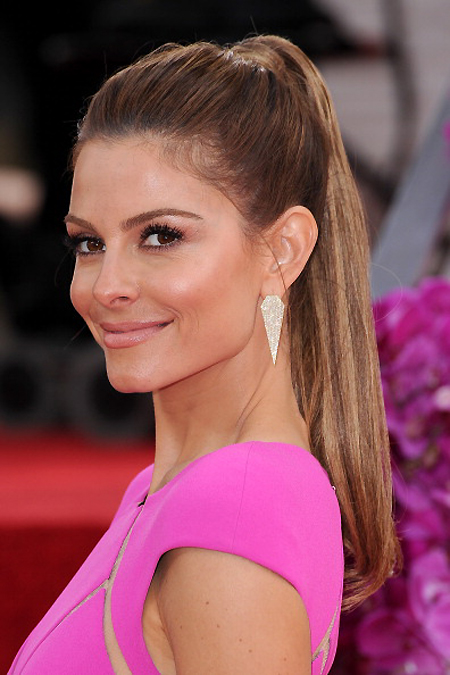 Maria Menounos' diamond earrings by Jennifer Fisher worked perfectly with her pink Max Azria gown. WireImage
Rings
Paula Patton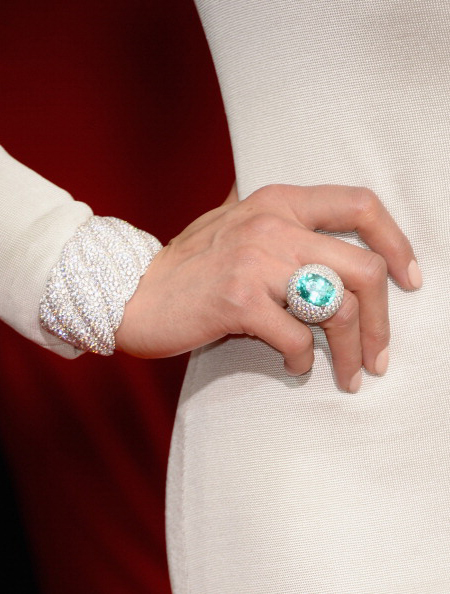 Paula Patton's cocktail ring and cuff by David Yurman made a statement. Getty Images
Jennifer Lawrence
Golden Globe winner (American Hustle) Jennifer Lawrence wore a stunning sugarloaf cabochon emerald ring by Neil Lane. NBC via Getty Images
More Celebrity Jewelry
Oscars 2013: Celebrity Jewelry Stuns on the Red Carpet

2013 Emmy Awards Jewelry Highlights: Long Earrings, Emeralds, and Gold

Why Kim Kardashian's Engagement Ring from Kanye West is Unique