Fresh and green, Omi Privé's 12.77-carat peridot ring enlivens our spirits during the dog days of summer. The August birthstone is set with diamonds in an 18k white gold split-shank ring.
Large, high quality peridots are coveted for their vivid "apple green" hue. Omi's stone hails from Pakistan, one of the world's largest sources of finer color. Other major sources include Burma, China, and the U.S. Peridots are among the earth's oldest known gemstones. They were originally mined on St. John's Island approximately 3,500 years ago. But peridots are not only found on earth…Did you know these gemstones also have extraterrestrial origins? The Fall 2011 issue of Gems & Gemology examines 26 peridot samples from the Esquel pallasite meteorite. Visit G&G to learn more.
**Remember, peridot is a softer gemstone at 6.5 to 7 on the Mohs scale, so care is advised when wearing this gem.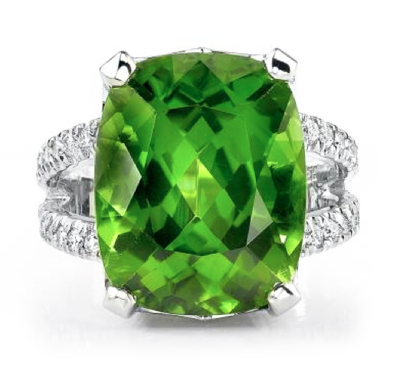 Photo courtesy of Omi Privé.
12.77-carat cushion-cut peridot with diamonds in 18k white gold
Related Topics:
Jewel of the Week – Spring Green Peridot Ring
Omi Gems 2011 AGTA Spectrum Award Winner