By
Erika Winters
It's always fun to follow the latest discoveries at the Crater of Diamonds State Park in Murfreesboro, Arkansas. And last week, lucky Brandon Kalenda from Louisiana found a 2.89-carat white diamond in the park's 37.5-acre search area. Kalenda, who was traveling from Louisiana to Minnesota with his family, decided to stop at the park at the request of his mother-in-law, according to a park statement. She had seen a segment of TLC's popular reality show 19 Kids and Counting in which the Duggar family visited the park to look for diamonds. Well, it's a good thing Kalenda listened to his mother-in-law, as his visit yielded a 2.89-carat diamond!
The trip marked Kalenda's first visit to the state park. He named his find the "Jax Diamond" after his infant son. "Jax" is the 47th diamond find to be registered by a park visitor in 2014. It is also the fourth diamond weighing more than one carat discovered at the park since mid-February.
"No two diamonds in the rough are alike. This is a triangular-shaped diamond with a metallic appearance, and it's about the size of an English pea," said park interpreter Margi Jenks.
The park consists of a 37.5-acre field that is plowed regularly to bring diamonds to the surface.
"Conditions are perfect for diamond hunting right now. The park staff plowed the diamond search field at the end of January, and the park received about one and a quarter inch of rain on Sunday—a good, hard washing rain," said Jenks. "Diamonds are a bit heavy for their size, and they lack static electricity, so rainfall slides the dirt off diamonds that are on the surface of the search field leaving them exposed. When the sun comes out, they'll shine and be noticeable."
According to park officials, about 2 diamonds are found at the park every day. You can check out the latest recorded finds here. And remember, the policy at the Arkansas Crater of Diamonds is finders keepers. So as always, we heartily advocate for a field trip!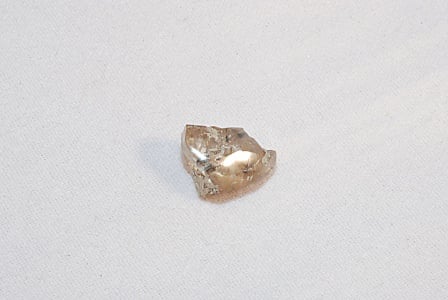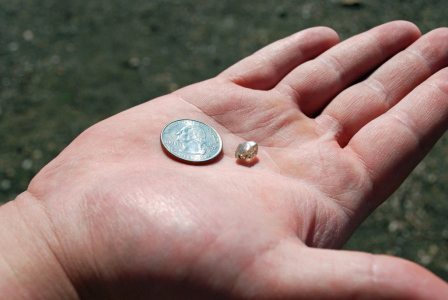 Brandon Kalenda of Louisiana found this 2.89-carat rough diamond at the Crater of Diamonds State Park in Murfreesboro, Arkansas.
Images courtesy of Arkansas Dept. of Parks and Tourism.
Read more about diamond finds at the Crater of Diamonds State Park:
2.95-Carat Brown Diamond Found at Arkansas State Park
2.10-Carat Brown Diamond Found at Arkansas State Park