By Erika W.
Some of the latest stories in diamond and jewelry news…
CNN: Australia unearths country's largest pink diamond
Christened as the Argyle Pink Jubilee, the 12.76-carat pink diamond was found in mining giant Rio Tinto's Argyle diamond mine in Western Australia's East Kimberly region.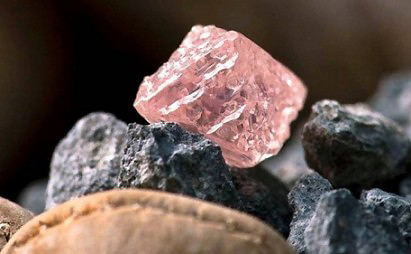 Image Rio Tinto
JCK's Rob Bates: Interview with the New Chairwoman of the Kimberley Process
Gillian Milovanovic, the recently-appointed chairwoman of the Kimberley Process, kindly took some time to speak with me today about her expectations for America's year as head as the certification scheme.
Israeli Diamond News: Rare Diamond Set for Auction in Vancouver
A Toronto auction house is expected to see a sale price of over $1 million this weekend when it tenders a rare, 28-carat white diamond.
Idex: Detailed Diamond Image in GIA's New Digital Diamond Report
The GIA (Gemological Institute of America) added the GIA Diamond eReport to its services as a diamond grading report option.
Washington Post with Bloomberg: Epstein Says China's Diamond Demand Will Overtake U.S. (Video)
Ari Epstein, chief executive officer of the Antwerp World Diamond Centre, talks about the outlook for diamond demand and investment.
Rapaport News: Webster to Host Elizabeth Taylor Photo Exhibit
Famed jewelry designer Stephen Webster will present the Elizabeth Taylor photographic exhibition by Richard Young on February 22 at his Beverly Hills boutique. (Exhibit runs through March)
Idex: Record Attendance at HK Jewelry Show
More than 3,100 exhibitors from 48 countries and regions took part in the 29th edition of the HKTDC Hong Kong International Jewellery Show, which closed Tuesday after drawing a record 38,000 buyers.
Huff Post Style: Adele Ring: Engagement Bling Or Just Awesome Jewelry? (PHOTOS)
In checking out photos of the crooner's multiple black dresses at the Brits, we can see pretty clearly that she's got two bejeweled rings on her left ring finger.
Related Topics:
Largest Canadian Pink Diamond on Display