By Erika W.
The largest pink diamond ever mined in Canada is currently on display at Lugaro Jewellers in celebration of the company's 25th anniversary. The GIA graded light pink, oval-shaped diamond weighs 2.75 carats and is set in a pink diamond halo ring by Simon G. The ring retails for $425,000 CDN and can be viewed at Lugaro's Park Royal location in West Vancouver, BC.
"This is a once in a lifetime opportunity and to be part of the legacy of Canada's first pink diamond is quite an honour," said Steve Agopian, President of Lugaro Jewellers.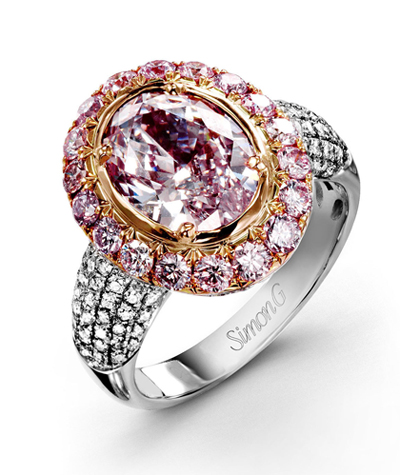 The largest pink diamond ever mined in Canada (CNW Group/The Marquis Group)
The rare Canadian diamond was recovered from De Beers' Victor Mine in Ontario. The stone was then sent to Ontario's Crossworks Manufacturing facility to be cut and polished. "This is a rarity that I haven't seen over the 12 years that diamonds have been mined in Canada. It was polished in our factory in Ontario and this is a credit to both De Beers Canada and the Ontario Government for supporting the secondary diamond industry in Canada," said Dylan Dix, Group Executive of Crossworks Manufacturing.
Related Topics:

Sotheby's to Auction 10.99 ct. Fancy Intense Pink Diamond
Watch The Graff Pink Set a World Record