By Erika W.
Who needs a velvet box, when you have a red velvet cupcake? Cupcakes Gourmet, a Philadelphia area bakery, is offering a special Valentine's Day cupcake with an 8ct diamond engagement ring from Warwick Jewelers valued at $55,000. If an 8ct diamond ring is a little out of reach, smaller versions are available. The companies are offering these sparkly sweets starting at a half carat. The diamond cupcakes will be offered all year round, and potential buyers get to select stones before purchasing.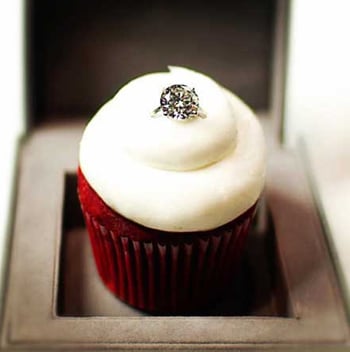 Photo: Cupcakes Gourmet
"There's no sweeter way to pop the question to your significant other than with a dreamy cupcake with a diamond engagement ring sitting on top," said Maki Garcia-Evans, owner and executive pastry chef at Cupcakes Gourmet.
No cream cheese frosting on the diamond, please. Or, have an ultrasonic cleaner handy…
Related topics:
Bakery offering $55k cupcake with 8 ct engagement ring