By Erika W.
If you haven't heard of the latest Internet sensation, Lana Del Rey is a YouTube vocalist turned international star who reportedly bombed on SNL and Letterman. We don't really care about the performances, but we are fascinated by this diamond-encrusted tooth cap she's been sporting. Diamond teeth are like those diamond contacts from months ago. When diamonds go INside the body rather than outside, well, we think of all sorts of things, like comfort, wearability, and you know…taste.
Racked: Lana Del Rey Wore a Diamond Tooth Cap at Amoeba
If you're wondering what Lana Del Rey decided to sport for her free live performance at Amoeba yesterday, the singer kept it super casual and wore a white buttondown, jeans, and flats. Oh, and a diamond tooth cap.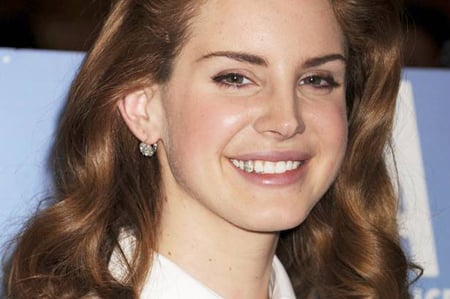 Image via Mirror
Some of the latest stories in diamond and jewelry news…
JCK: Nearly $1 Million in Gems Reported Stolen After Tucson Gem Show
A gem dealer who exhibited at the recent GJX Show in Tucson is reporting that nearly $1 million of her inventory was stolen following the fair.
Wall Street Journal: Valentine's Day Gold Rush Is Still Within Reach
The high price of gold may send some Valentine's Day jewelry shoppers reeling—or at least prompt them to consider alternatives, like silver and titanium.
Idex: HK Jewelry Design Competition Winners Announced
The winners of the 13th Hong Kong Jewellery Design Competition were announced recently in Hong Kong.
Antoinette Matlins: Failure of 57,000 Carat "Emerald" To Sell Is No Surprise …
But Arrest of Owner IS!
While I'm glad to know this emerald didn't sell, and it's heartening that the person trying to misrepresent the facts is facing charges of fraud, it also occurred to me how sad it is that the unknowing public – including the media – can be so easily exploited into thinking such material is actually a "gem."
New York Times: For Scientists, Hope Diamond's Blue May Offer Geology Lesson
Scientists also look upon the diamond as a mysterious treasure, but for different reasons. Rather than a few centuries of legend and supposed curse, they would like to use it to study more than a billion years of the Earth's history.
Times of India: Tribal women to be trained in diamond cutting, polishing
SURAT: If diamonds are the rich girl's best friend, they are soon going to be a source of livelihood for hundreds of poor tribal women living in the far flung areas in the district.
Related Topics:
Diamond and Jewelry News Roundup – January 18, 2012
2.44ct Rough Diamond Found at Arkansas Park Yields 1.06ct F VVS2 Pear Shape