An engagement or wedding ring is enormously personal. It's no surprise that engraving is used to make the individual piece even more intimate and unique. Ring engraving is popular, for both engagement rings and wedding bands.
Typically when people think of engraving, they think of a few words engraved onto the inside of the ring, as shown by Whiteflash below: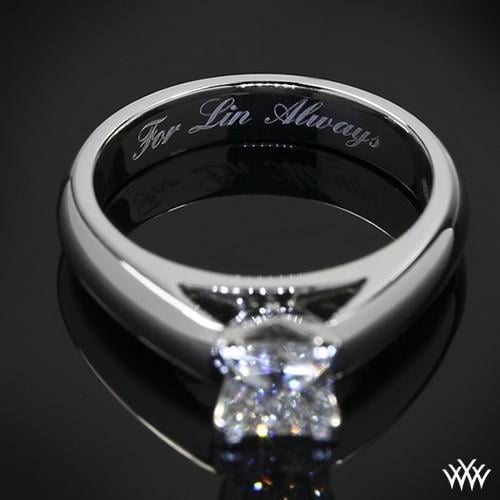 There are actually two forms of engraving: the message on the inside, and intricate detailing on the outside. You can see an example of this hand engraving on the outside from the ring at Blue Nile shown below: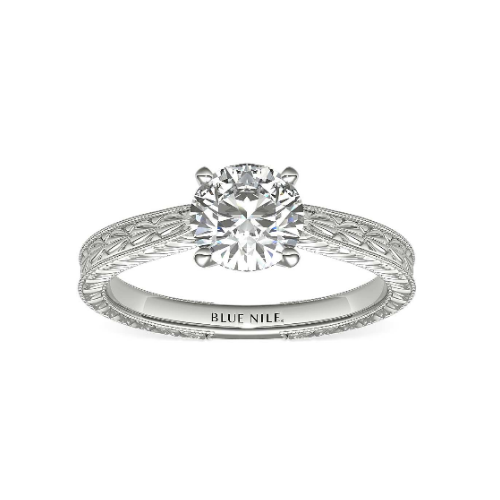 Another eye-catching example is this stunning Platinum Engraved Engagement Ring at James Allen: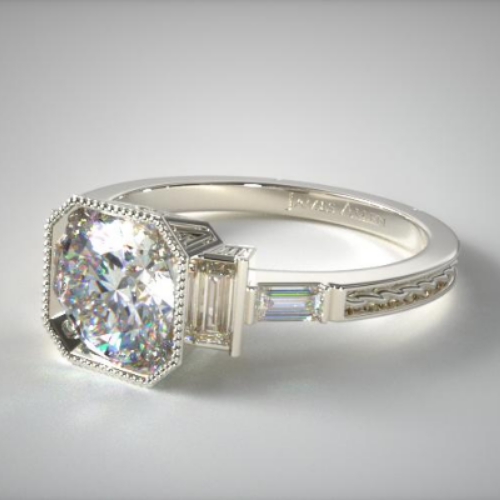 Both types of engraving can be personal. Both need to be considered carefully. It's not always clear cut whether ring engraving is a good idea. This thread in the Diamonds and Jewelry forum raises just a couple of valuable concerns.
WHY ENGRAVE RINGS?
The main reason that rings are engraved is to make them more romantic, personal, and symbolic. In the case of adding your own message, this is quite obvious. In the case of engraving a pattern, this may not be so evident. However, the engraving creates a level of detail which is hard to replicate in any other way. We've seen it used to mirror the bride's flowers, or details which are important to the couple, such as ocean waves.
Engraving rings is generally quite affordable, especially when considered alongside the overall price of the ring. Yet it's a gesture that lasts. Therefore it's a popular choice.
CAN ALL RINGS BE ENGRAVED? 
Not all rings can be engraved. Those which have an engraved pattern on the outside will be designed with this in mind, even if the actual pattern will be adapted to the individual couple.
When it comes to engraving a message on the inside of the ring, the biggest factor to consider is band width. Generally speaking, the band must be at least 3 mm wide to allow room for ring engraving which is clear and easy to read. Realistically, jewelers will prefer wider bands, of 4 – 6 mm. You also need the inner band to be smooth and free of filigree detailing.
Gold, as a reasonably soft metal, is the best material for engraving. That said; modern machine engraving makes it possible for a good result on platinum too.
A good example of a ring which incorporates both engraved detail on the outside, and has a smooth wide band ideal for engraving a message on the inside, is this beautiful Engraved Solitaire Engagement Ring by Adiamor. It's also made of white gold, making it perfect for a clean and smooth message.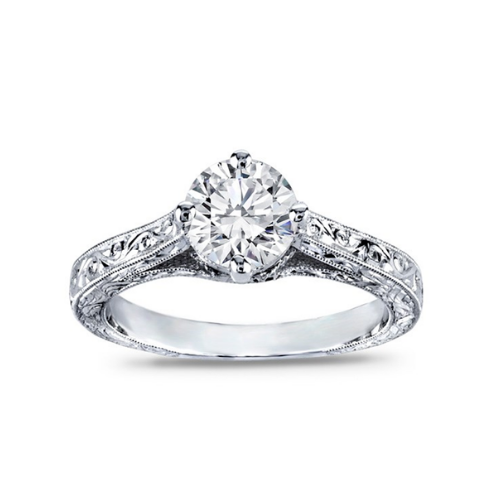 DECIDING YOUR INSCRIPTION
It can actually be quite tricky deciding what your engraved message will be. 
Traditionally names, initials, or the wedding date have been favored choices. As seen in the example below: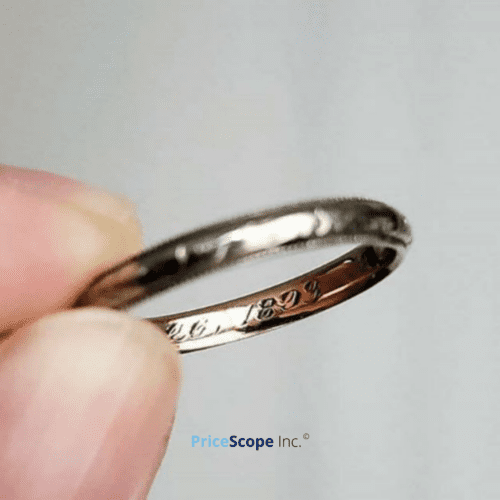 18k Yellow Gold Wedding Band with the Couple's Initials and Date of Wedding engraved on the inside.
However, there really are no limits in terms of what you can choose to engrave– except the size of the ring! Couples may choose a poignant scripture, a line from a song or poem, or an individual love message. Light-hearted and jovial inscriptions aren't unheard of either! If his and hers rings are being engraved, then you can have one quote that starts and finishes on the different rings.
Your basic rule of thumb needs to be: short and sweet.
It's also possible to insert small gemstones within the engraving. For example, birthstones used to separate out date numbers are quite a popular choice.
ENGRAVING METHODS
There are two popular methods to have engraving done: by hand or by machine. It's important that you ask to see examples of the jeweler's work before committing to the process. Also, confirm if it's done in-house, or sent elsewhere. If a jeweler uses a laser, they will be able to incorporate more complex fonts or symbols.
Professional engraving looks wonderful and captures the message or design perfectly. Poor engraving will become an irritation for years to come.
IS IT A GOOD IDEA TO GET A RING ENGRAVED? 
Now, this is where it can get a little tricky. Whilst the reasons for having a ring engraved are compelling, there are some things you need to be aware of.
Engagement rings and wedding bands are, hopefully, for life. Over the course of a lifetime, an individual's weight may go up and down. They may develop inflammation of the joints or soft tissue of the hands. Pregnancy will also change a woman's hand shape and potentially ring size. If you're choosing the ring in advance of the proposal, you may also need it resized in due course, no matter how good your guess work is. It's rare for someone to never need their rings resizing throughout the course of their life.
Resizing is considerably more difficult with both types of engraved rings, but particularly for ones with internal messages. This is because to resize the ring, the metal is heated and stretched, and maybe even cut. 
Tip: Make sure you've sized the ring to a satisfactory size before getting it engraved.
Once it's engraved- It is unlikely that you can return it
Whether it's because you didn't get your fiancée's style right, or because you've got buyer's remorse, if you've had the ring engraved, you're unlikely to be able to return it.
If you're considering getting engraving done, it's well worth considering the individual jeweler's policy. Some are better than others. For example, at Adiamor, you'll only lose the engraving fee, but still, be able to take advantage of their usual 30-day returns policy.
Tip: Check out the returns policy very carefully if you are considering an engraved ring.
Redoing an engraving isn't always easy
Let's say you go down the light-hearted route and have a jovial 'ball and chain' message engraved. Will this really stand the test of time? Or perhaps the line of a love ballad will become jaded over time, ruined by a TV ad. There's a chance that you may want to change the inscription. Fonts can also become dated. You can't just erase it like with pencil and paper. 
Tip: Don't get the engraving done on a whim. Consider it carefully and ensure it will stand the test of time.
HOW TO CHOOSE YOUR JEWELER FOR AN ENGRAVED RING? 
It is important to carefully consider the jeweler for an engraved ring. As well as individual designs and diamond choices, you also need to consider the skill of the engraver and the options available.
A core option is to choose a jeweler, such as Whiteflash, which enables you to create a custom design. You will then have complete input into all elements of the design, including the engraving on the outer side of the ring. Find out more about the Whiteflash custom hand-engraved ring option. Also, peruse this thread on the Show Me The Bling! forum where users share their engraved designs to get some ideas.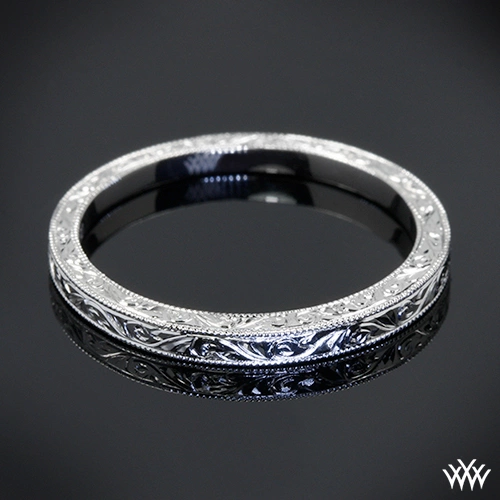 Another option is to choose a jeweler that allows you to easily browse and choose from rings that have specifically been chosen as rings suitable for engraving. At Blue Nile, you can easily choose from a range of rings that are suitable for engraving an inscription on the inside.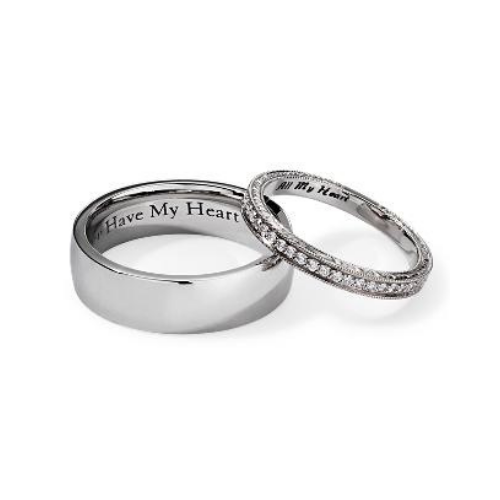 Ring engraving is popular, and with good reason. Just make sure that you're aware of the cons and work your way around them by following the advice above.
Have you got engrave work done? Show off your engraving in the comments section below.