By Erika W.


The Royal Wedding has flooded the Internet with lore of exquisite crowning jewels, so we are celebrating the May birthstone with a notable emerald and diamond tiara.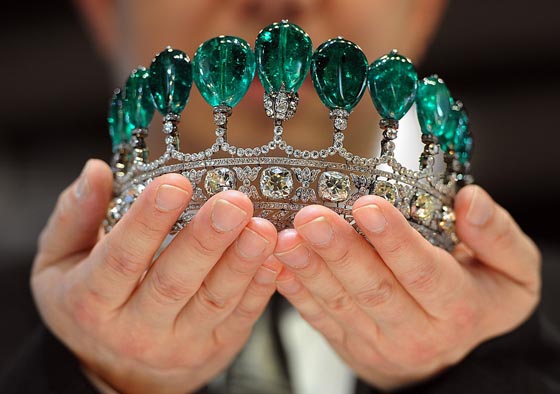 Photo: Mike Clarke/AFP/Getty Images
The remarkable tiara will be auctioned on May 17 at Sotheby's Magnificent Jewels and Nobel Jewels Sale in Geneva. The jewel features eleven Colombian emeralds weighing over 500 carats total, which crown a row of eleven antique cushion cut diamonds. The tiara has been in private collection since 1979 and is described by Sotheby's to be "the grandest tiara to exist outside Royal, State, and museum collections." For catalogue notes and provenance, please visit sotheby's.com.
In the video below, David Bennett discusses the tiara's history and unique characteristics. The jewel was commissioned circa 1900 by Count Guido Henckel von Donnersmarck as a gift to his wife Katharina Wassilievna de Slepzoff. Bennett says, "I can think of no other jewel that sums up the glamour and the grandeur of the Belle Epoque as well as this."
"Certainly in the thirty-five years that I've been working in the auction business, this is undoubtedly the greatest row of original fabulous quality Colombian stones, eleven of them-perfectly matched. And most extraordinary, is that if you wanted to describe to somebody what color the great emerald is, you would point at these stones." – David Bennett, Chairman of Jewelry for Europe and the Middle East
Related Topics:
Jewel of the Week – Emerald Ring Extreme Makeover
My emerald is here! Guidance welcome!
Share and Discuss Emeralds