PS Welcome - YouTube
All about PriceScope
Fri, 13 May 2011
Rosebery pearl and diamond tiara to be auctioned at Christie's
H1:
Rosebery pearl and diamond tiara to be auctioned at Christie's
By
Erika W.
The Rosebery pearl and diamond tiara, bracelet and brooch will highlight Christie's Important Jewels sale on June 8. The jewels, which belonged to Hannah, Countess of Rosebery, feature sizable natural pearls and clusters of diamonds-epitomizing the grandeur of Victorian court adornment. The tiara is expected to fetch between $1.6 to $2.4 million. The bracelet and brooch have a selling estimate of $488,000 to $650,000.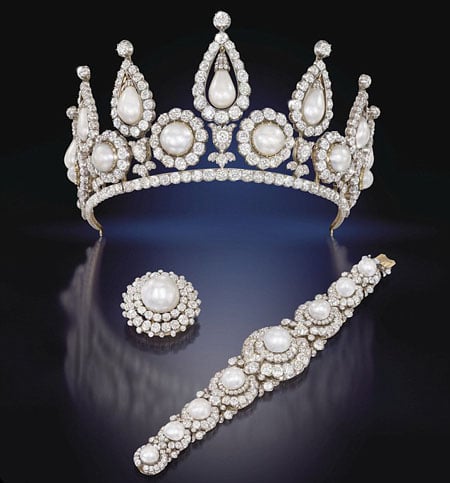 Photo: Christie's
"The Rosebery pearl and diamond tiara, bracelet and brooch were at the heart of Lady Rosebery's vast array of magnificent jewels, which rivaled those of the crowned heads of Europe at the time. They are a rare survival of 19th century English aristocratic splendour, as so much ancestral jewellery has been sold anonymously, remounted or broken down. Having descended through various branches of the family and survived the vicissitudes of fashion, the jewels are being offered for sale from a private collection for the first time since their creation nearly 140 years ago." - Keith Penton, Head of Jewels Christie's London
Related Topics:

Tiaras for the Royal Wedding

An Emerald Tiara for May

The Williamson Brooch and The Queen's Diamond Jubilee

Royal Wedding Jewelry!


Join the Tiara discussion on the Forum