By
Erika Winters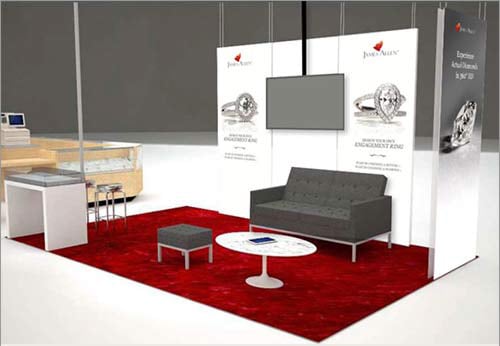 James Allen boutique at Sears
Online diamond and jewelry retailer James Allen has teamed up with Sears to offer an in-store shopping experience at 16 Sears locations in New York, Maryland, and Puerto Rico.
The company's move from online shopping to in-store browsing follows the popular "clicks to bricks" trend sweeping e-commerce. Last year Blue Nile teamed up with Nordstrom to offer similar in-store mini showrooms for customers. And like Blue Nile's set-up, James Allen will not be selling actual pieces in stores. The company has stated that each James Allen "store-in-store" at Sears will feature 120 bridal ring styles for customers to try on. But actual transactions will still take place at the company's online store.
"We couldn't be more excited to be working with Sears. What James Allen brings to the table is a continuation of the Sears' tradition–giving people an inviting and affordable place to shop for high quality engagement rings," said James Allen's CEO Oded Edelman.
Each in-store showroom will also feature the company's online offerings. So customers can try on engagement rings while browsing the company's diamond inventory featured on the website via James Allen's 360-degree diamond display technology. Using high-definition video, the diamond display allows shoppers to view diamonds from every possible angle by simply moving their cursor over images of stones from James Allen's inventory.
The showrooms (model pictured above) will be located in each Sears' jewelry department and will be staffed by select engagement ring specialists.
"The ability to work with James Allen to combine quality, customized design with a seamless shopping experience underscores Sears' commitment to integrated retail," said Vijay Talwar, Sears' president of gifts and special occasions.
More on clicks to bricks:
Blue Nile Engagement Rings on Display at Nordstrom
Whiteflash Debuts New Showroom in Sugar Land, Texas

Rolex Watches, $98,000 Diamond Rings: There's More for Your Life…at Sears?