By PS Staff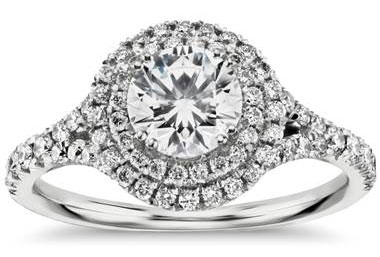 Duet Halo Diamond Engagement Ring Setting, $1,980

at Blue Nile
The number of people purchasing engagement rings online has reached significant numbers. Online diamond and gem retailers have been offering buyers as much as 50% off the price of an equitable stone in a brick and mortar establishment. However, all online retailers or bricks and mortar for that matter are not created equal; therefore, it is in your best interest to get some education before filling out your credit card information.
Research, research and research. Know who the most reputable retailers are before you begin to peruse their websites looking for an engagement ring. If you need a hint, go no more than the site's return policy. The above-board sites offer money back guarantees, no question asked, and all items you purchase will be insured the moment it leaves the warehouse to be delivered to your residence. However, you will need to purchase insurance for the ring once you take possession of it.
Just because you have identified a reputable store doesn't mean that you are in the clear. The last scenario you want to happen is to fall in love with a ring only to discover that it is well above what you can afford. This is where you must utilize the filters to aid in your search. Naturally, you should have a budget in mind so you can then alter the filters to only show you the stones, settings and the rings with your specifications.
Once again, this is where it pays to have researched everything ahead of time. The best websites all allow you to filter the most minute of details about a specific ring, stone or setting. Therefore, you should know ahead of time the names of the cut, the settings, clarity and more. Basically, know your 4Cs and then some because the more details you know about the ring, the better.
Thorough research is the best way to take advantage of the deep discounts offered by online retailers. However, all is not as it seems and it is up to you to take your engagement education into your own hands to find the best ring for your budget.
All of the above mentioned resources that you need are here, right on this site – right at your fingertips! We have done the research for you! Here are some tools/links to help you get started.
To begin, start with your knowledge/education.
If you need help, we have a live forum of experts (jewelers, appraisers, etc.) and educated consumers who are willing to assist.
Here are reputable retailers/jewelers that have been vetted by our community/consumers: aka Featured Sponsors. They can even try and meet your budget, give you options.
If you want to see how it looks, then click here (Show Me the Bling! (Rings, Earrings, Jewelry).
If you're looking for something special (a design or to shop), use our Jewelry Search.
This site has a vast amount of information so take a look and have some fun 😉 You'll be amazed!!!