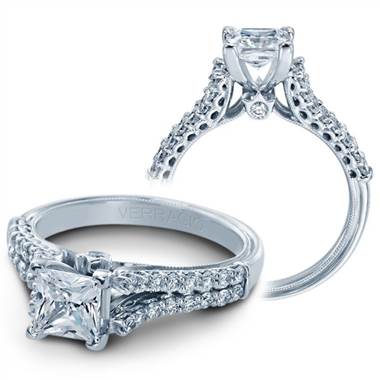 Verragio "Classico Collection" Engagement Ring, $2,450 at Solomon Brothers
I recently brought you a post detailing how you can save an extra bit of money when you purchase your engagement ring. However, that was only the beginning and I'm here to teach you a few more ways to keep some money in your wallet and put a nice ring on someone's finger.
Certified is your only option. You can find unbelievable deals by shopping for uncertified "diamonds" (because you can't be sure) however, you will be asking for trouble down the line. Certified diamonds, especially ones which are GIA certified, confirm a diamond's exact specifications. There have been far too many tales of people being duped out of serious money only to discover later that their supposed diamond is barely worth what one finds in a Cracker Jack box. Definitely go certified, for your sanity and your bank account's protection.
Go for the gold. People are easily swayed by platinum settings, but they can get the same visual with white gold at a sliver of the cost. The same goes for yellow gold and consequently, one of THE hottest metals, rose gold. Rose gold has traditionally cost less than platinum settings, but now that it is bang on trend, some jewelry merchants have been pricing it much like they price platinum jewelry. Regardless, you will definitely be able to save some money if you elect to purchase a gold setting over a platinum one.
Buy online. I touched on this a bit in the previous post, but it must be said again. Yes, beautiful jewelry stores will definitely lure you in and show off their exquisite jewelry for you. But, they also have a much larger overhead which translates into higher prices. However, places like Blue Nile and others go above and beyond to offer fair value for their diamonds to their customers without the additional markup. Buy from a credible online retailer (with a favorable return or exchange policy) and you've already won half the battle.
Buy in the summer. Why make your purchase in the summer? Summer is wedding season, which means that the engagements have already happened. Now, jewelry retailers are trying to move their inventory to make way for new items. This translates into *drumroll please* SALES!! I have seen absolutely stunning engagement rings go on sale during this season for as much as 60% off the MSRP.
Keep an eye on color. There isn't much of a difference between one color grade and another. This is where your financial honeypot resides. If you adjust your color preference by as little as one grade, you will be able to reap the rewards without sacrificing the style.
Aren't you just absolutely thrilled you're going to be able to afford the diamond you really want? Of course you are. As long as you do your research, pay attention to the 4 Cs, buy during the summer season and make sure that gem of a diamond is certified, you'll be able to slip that beautiful stunner on the finger of your beautiful stunner. Happy engagement!