By PS Staff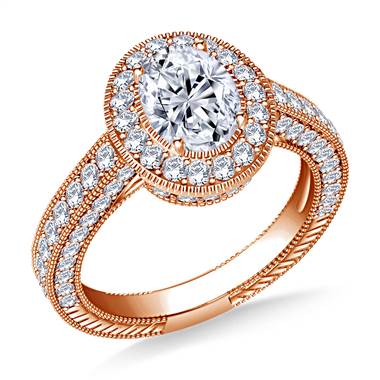 Rose Gold Oval Halo Vintage Diamond Engagement Ring Setting, $2,149

at B2C Jewels
This year is all about fancy shaped diamonds. Celebrity brides and more have been wearing diamonds of all cuts, and it isn't stopping. One of the more popular cuts, which is on the up and up, is the oval cut diamond.
We believe one of the reasons people are being drawn to this cut is because at its core, the oval cut is a brilliant diamond. Oval diamonds have fantastic sparkle and have a tendency to look larger than its actual carat size because of that sparkle.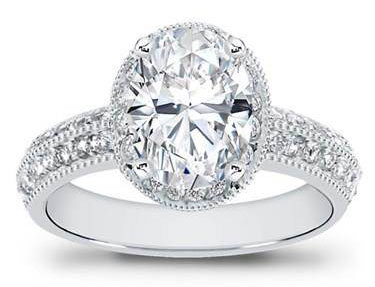 Antique Look Pave Setting for Oval Diamond Engagement Ring, $1,295

at Adiamor
Another benefit of that extra sparkle is that the larger face-up surface translates into larger savings per carat. This makes an oval cut diamond a perfect candidate if one's budget only allows for a less than 1 ct. diamond. It's an economic yet a beautiful choice which is sure to please its wearer for decades to come.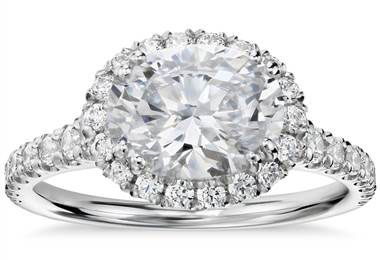 East-West Oval Diamond Platinum Engagement Ring Setting, $3,980

at Blue Nile
We understand it is great to be able to have the appearance of larger stone without breaking the budget, but did you know that the oval cut has an aesthetic benefit as well? Oval fancy cuts make fingers look like they belong on a supermodel by creating the appearance of long, slender fingers.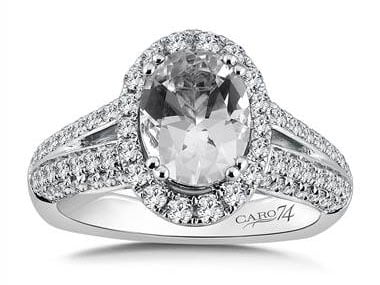 Oval Halo Engagement Ring Mounting, $4,250

at I.D. Jewelry
We aren't the only ones who are captivated by this cut. A few celebrities are also big fans of this look as well. Behati Prinsloo, Adam Levine's wife and supermodel, has an oval cut engagement ring; Jennifer Aniston and Blake Lively both hold their oval cut engagement rings close to their hearts.
This fancy cut shape should never be discounted. For it is a rare diamond which combines looks, economy and instantly gives one's fingers a "facelift." Therefore, if you have the opportunity to own this fancy cut, jump at the chance and don't forget to post it by clicking on any of the three specified links below or just add your own thread under "Show Me the Bling!" forum (then press "new topic" and add your comments and images) so we can all ooh and aah over it!
For more information, read our Oval Cut Diamond Guide.
Want to see some stunning oval pieces, here are just a few:
If you'd like to add your own, just click on any of the above 3 links and press "post reply" to add your comment and pictures. We'd love to see yours! 🙂
Click here to see some celebrities' engagement rings!
If you're looking for something special on the ovals (a design or to shop), use our Jewelry Search.