By PS Staff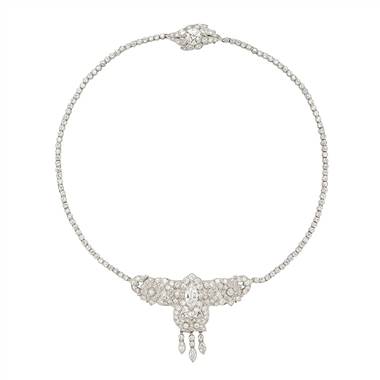 Estate Art Deco Diamond Choker, $46,500

at Blue Nile
If you've lived long enough to remember the 90s, then you will definitely remember chokers dominating the accessories market. Everywhere one looked there was a choker for sale or on someone's neck. Well, everything old is new again because chokers are back in a BIG way. Therefore, as much as we tried to avoid it, we just couldn't neglect this trend any more. They're here to stay, at least for the next season, so why not delve into this trend and enjoy the déjà vu all over again?
Of course, this look is being spearheaded by the younger generation, but women of all ages have slowly been adding chokers to their jewelry repertoire. Cara Delevingne, Rihanna and Rooney Mara have all been seen out and about wearing a choker:
An interesting fact about this look though, is that it has not evolved; your velvet choker from the 90s will be thoroughly up-to-date with the times. You don't have to worry about your choker dating you and even if it did, claim it was vintage and continue to wear it with pride.
A word of caution if you have a short neck, pass this trend up. Adding a choker to your look will break up your lines and make your neck look even shorter. If this is the case, admire this look from afar and invest in beautiful pendant necklaces.
We do want to mention one exception to the rule with this look. Pearl chokers are NEVER out of style; there is something elegant about a pearl choker which transcends any time period. If you have one, feel free to dust it off and wear it; but if you're as smart as we think you are, then you never allowed it to collect dust.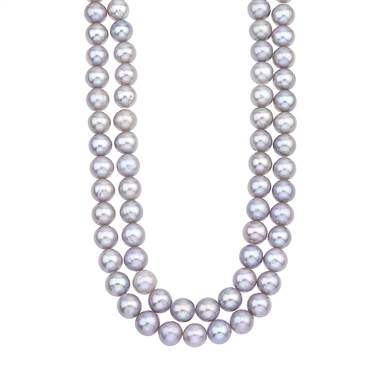 Double Strand Gray Freshwater Pearl Necklace, $299

at B2C Jewels
We know one day it was all about statement necklaces and the next we were launched back to 1997. Thankfully, this look isn't just reserved for those born before they were old enough to wear it the first time around. Don't be afraid to wear a beautiful pearl choker or completely immerse yourself in the 90s with a velvet one. Yes, take advantage of this trend while you can because it is not going to be around forever.