By PS Staff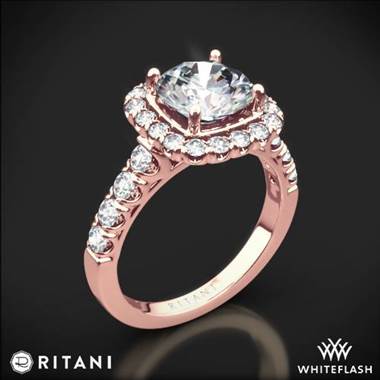 Rose Gold Halo Diamond Engagement Ring Setting, $4,140

at Whiteflash
Jewelry, much like fashion, comes and goes. It's easily influenced by the world and changing moods of the day. Yet there are some styles that start as trends and become classics. One such trend which is now a classic is the halo setting. It went from zero to everywhere seemingly overnight. Now, you can expect your granddaughters to be given halo engagement rings for their walks down the aisle. What is it about this setting that has captured many a bride's eye?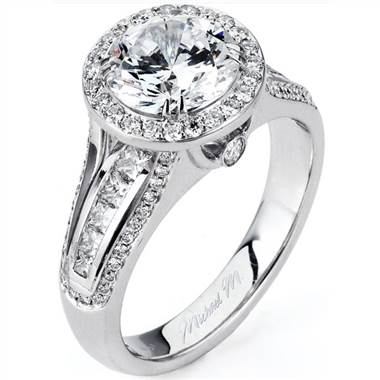 Channel and Pave Set Halo Diamond Engagement Ring Setting, $5,740

at Solomon Brothers
The Setting. There are three options for a halo setting, prong, bezel and a combination of the two. Prong settings show off the center diamond the most since it is above the halo once it is set. The bezel setting has the center stone placed flush with the halo, which makes it great if you're active as you have a harder chance of knocking a stone loose or catching on clothing. Naturally, the combination setting combines a bezel and prong setting to merge the best of both worlds in one ring.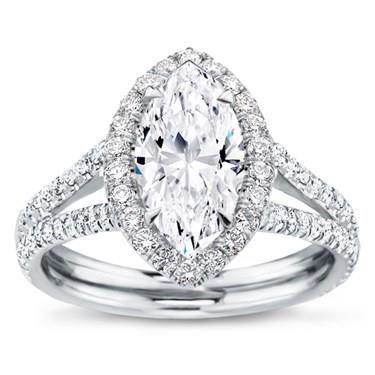 Split Shank Halo Setting, $2,290

at Adiamor
Adds Size. Halo settings are a great way to give the illusion of size without spending more for the carats. We have seen halos visually add up to half a carat to a diamond's size just from the amount of light they reflect. Not to mention that you can get a "bigger" stone for a lower price, so it's a win-win for you.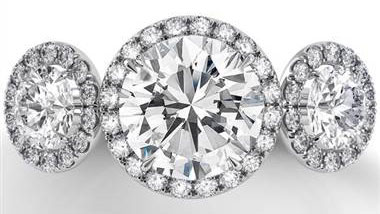 3 Stone Pave Halo Diamond Engagement Ring Setting, $5,380

at Solomon Brothers
New Classic. Walk in to any jewelry store and you will be able to find the halo setting of your dreams. Why? Because they've not only become popular but are practically the backbone of the engagement ring industry. In fact, the halo setting is the second most popular style, only to be outpaced by round diamonds. The halo is definitely a new classic, because it has been able to withstand the test of time and come out on top.
Stunning halo settings aren't going anywhere. We love their ability to enhance any diamond and look phenomenal today and for generations to come. We know that we aren't the only ones who love looking at beautiful halo rings, we read the forums, we know you love them too and, can we just say, our PriceScopers have some stunning halos of their own!
To learn more, read our Halo Engagement Rings.
Want to see some stunning halo pieces, here are just a few:
If you'd like to add your own, just click on any of the above 3 links and press "post reply" to add your comment and pictures. We'd love to see yours! 🙂
Click here to search and shop for more halos (Resources >> Jewelry Search).