By Erika W.


Happy Birthday April Pricescopers!
We're all familiar with colorless diamonds, but diamonds come in every color of the rainbow. From pink diamonds to blues, greens, yellows, oranges, and browns, there are flavors for every taste. Enjoy this selection of fancy color diamonds posted by Pricescopers.
Pink Diamonds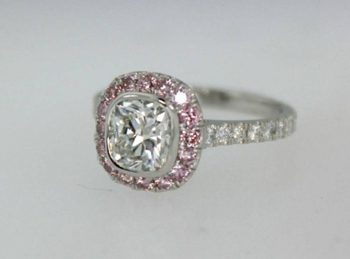 Posted by SmallSparkle
Pink diamond halo – ERD photos
SmallSparkle's cushion cut diamond ring features a halo of delicate pink diamonds. Australia's Argyle Diamond Mine produces most of the world's pink diamonds, which are sold at the annual Pink Tender. Diamonds can range from dark or vivid pink to very light or faint pink. The color of pink (and brown) diamonds is generally thought to be caused by colored graining, which results from structural irregularities in combination with an impurity. Pink diamonds are highly coveted and costly, but can delight in small sizes, as seen in SmallSparkle's halo. Lovely!
Champagne Diamonds (Light Brown)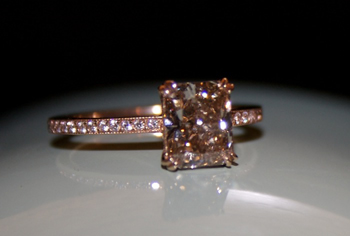 Posted by gisellem
My new pink/champagne E-ring
Light brown diamonds are often called "Champagne Diamonds" in the marketplace. Light browns can also display a slightly pinkish hue, which creates a very soft and lovely blend of colors. Since light brown diamonds and pink diamonds are both colored by graining, it follows that some browns will show a bit of pink. Gisellem's 1.42 carat pink/champagne diamond is set in rose gold for a warm and delicate effect.
Chocolate Diamonds aka Cognac or Brown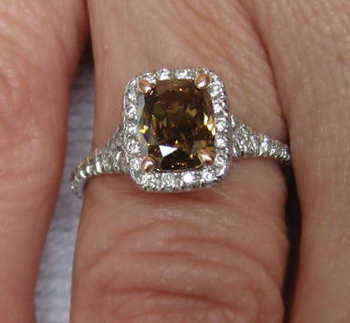 Posted by dori2002
Brownie from diamondsbylauren
The term du jour for browns is "Chocolate Diamonds" a la Le Vian, but darker brown diamonds are also called Cognac or simply brown. Dori2002's brownie is a 1.53 carat fancy dark yellow brown graded by GIA. The rich brown is offset by a white diamond halo ring with rose gold prongs. I'll take some chocolate diamonds with my cognac, please. Yum.
Black Diamonds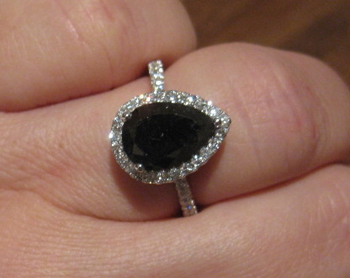 Posted by LovingDiamonds
Black Diamond Ring
LD's 4.1 carat pear shaped black diamond is set in a white diamond halo ring. Natural black diamonds are essentially colored by dark inclusions or impurities, which are great in number and evenly distributed throughout the stone. Many black diamonds in the marketplace are irradiated for even coloration. One of the most remarkable natural black diamonds is the 67.50 carat Black Orlov.
Yellow Diamonds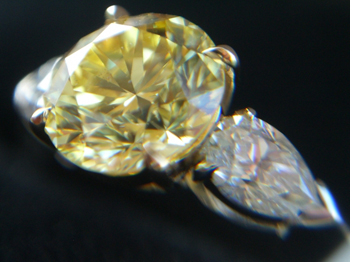 Posted by acebruin
Show Me Your Fancy Colored Diamonds
Yellow diamonds are among the most popular, and acebruin's fancy light yellow pops with color. The 1.01 carat Fancy Light Yellow diamond is set with pear shaped diamonds in a classic three stone ring. Yellow diamonds are colored by the presence of nitrogen, and they are second to brown diamonds in rarity.
Fancy Color Diamond Extravaganza

Posted by kenny
Show off your colored diamonds!
You can mention fancy color diamonds on Pricescope without a glimpse of kenny's colorful collection. All of the diamonds are natural in color. Causes of color include: Green Diamond-natural radiation, Blue Diamonds-presence of boron, Grayish Violet Diamond-possibly hydrogen, Pink and Orange diamonds-structural irregularities combined with impurities, though cause of color in orange diamonds is still up for debate.
Clockwise from the top:
0.23 ct Fancy Vivid Green Yellow, strong green fluor,
0.26 ct Fancy Intense Green,
0.16 ct Fancy Intense Green Blue,
0.08 ct Fancy Intense Greenish Blue,
0.12 ct Fancy Grayish Violet,
0.27 Fancy Deep Purplish Pink,
0.19 Fancy Vivid Orange-Yellow
Related Topics:

Show off your colored diamonds!
Show Me Your Fancy Colored Diamonds
Harry Winston and the 24.78 Carat Pink Diamond
Share your fancy color diamonds:
Show Me the Bling!