By
Erika Winters
The world watched when Prince William wed Catherine Middleton in the most stunning televised nuptial event since the late Princess Diana's wedding in 1981. And earlier today the world waited for the royal baby's birth, as it was announced that Duchess Catherine was in labor at St. Mary's Hospital in London.
At 4:24 p.m. today Catherine and William welcomed their first child, a boy, who is third in line to the British throne.
The Duke and Duchess of Cambridge have touched people around the globe with their down-to-earth presence that appeals to the public and younger generations. Since the couple has done much to shape the role of royals in the 21st century, it was no surprise that the world was excited for the royal birth!
And many are wondering what Prince William will give to the Duchess for the birth of their son, though some celebrity websites have stated that he is planning to gift her with a holiday home and jewels. According to entertainmentwise.com, for example, "He'll commission a new set to celebrate the birth of their first child, having already received permission directly from the Queen. Kate will be given a sparkly new tiara, earrings, bracelets and rings, which she'll wear for significant occasions – most importantly when William finally ascends to the throne."
We'll have to wait to see what William will give Catherine, but for now, check out these 7 historical British jewels to celebrate the royal baby's July birth.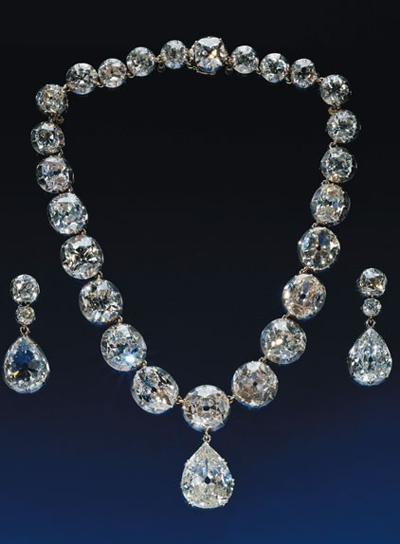 The diamond coronation necklace and earrings (above) were originally created for Queen Victoria. The jewels have been worn by Queen Alexandra, Queen Mary, The Queen Mother and Queen Elizabeth II at their coronations.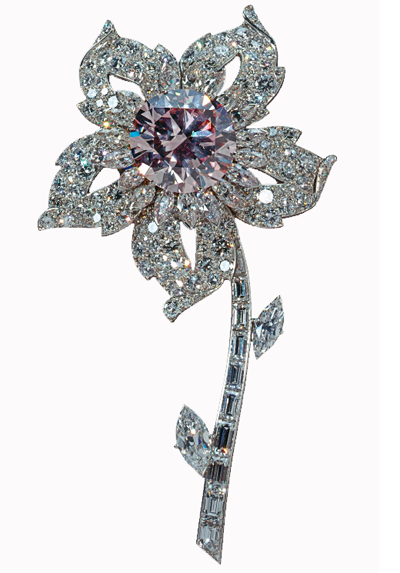 The Williamson Diamond Brooch was on exhibition for The Queen's Diamond Jubilee in 2012. The pin features a 23.6-carat pink diamond, which was found in Tanzania by Canadian geologist, John Williamson. The original 54-carat rough diamond was given to Princess Elizabeth in 1947 and was later cut into a round brilliant. The rose-shaped brooch was designed by Cartier.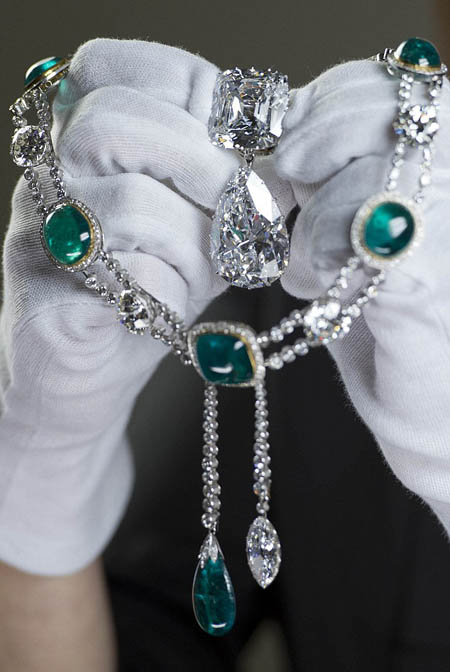 Seven of the nine principal stones cut from the 3,106-carat Cullinan diamond were displayed at the "Diamonds: A Jubilee Celebration" exhibition at Buckingham Palace in 2012. In this photo: the Cullinan III and IV Brooch and the Cullinan VII Delhi Durbar Necklace.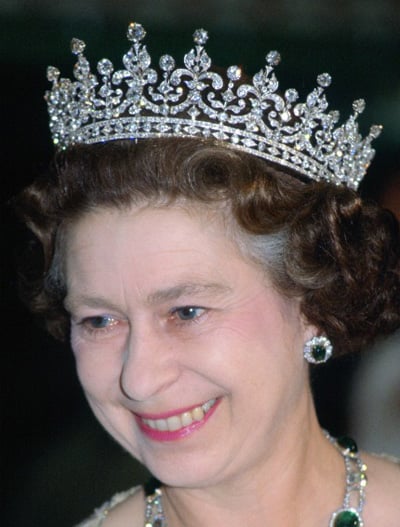 Purchased from Garrard and originally given to the future Queen Mary, The Girls of Great Britain and Ireland tiara was later given to the future Queen Elizabeth II in 1947.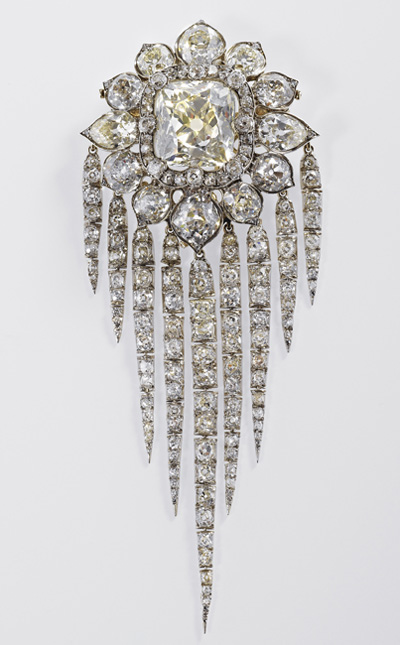 Made in 1856 by R & S Garrard, Queen Victoria's Fringe Brooch holds a large old brilliant-cut diamond surrounded by twelve fancy shaped brilliants with nine diamond chains suspended below.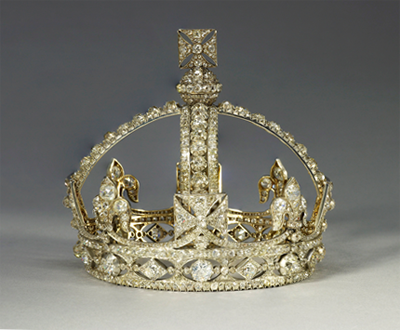 Queen Victoria wore her miniature crown for her Diamond Jubilee portrait in 1897. The crown holds 1,187 diamonds and is approximately 9cm. The crown was made by R & S Garrard in 1870.
Related Blog Topics and Forum Discussion:
British Royal Jewels Exhibition, "Diamonds: A Jubilee Celebration"
Cullinan Diamonds to Go on Display for The Queen's Diamond Jubilee
Discuss on our Royal Jewels Forum