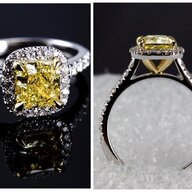 Joined

Jan 12, 2022
Messages

51
Hi Bling
Lovers!
I love checking out this eye candy thread!
You
all
have
such stunning
rings!
Here is my ring story:
One Christmas Eve, a long time ago, my Hubby proposed to me with a beautiful marquee diamond ring.
Recently, my hubby and I decided it's finally time to check out the stunning yellow diamonds. We did a lot of reading educating ourselves.
It took many months to find that special yellow color! I wanted a beautiful deep pop of yellow that's seen from a distance, but not to deep in color. Intense could sometimes be lighter than I wanted and Vivid can be too dark for my taste.
Then we both saw her, her color was what we both dreamed her to look like. It was such a delight viewing this one diamond spinning around on my iPad seeing her extraordinary yellow coloring.
My hubby said, "this ring is THE ONE"
, just like I was his ONE that Christmas Eve night back in the day!
When Hubby realized she was flawless
he was even more ecstatic. Never in a million years he would of dreamed he would by his wife a flawless diamond never mind one that is a Fancy Intense Yellow diamond.
We both agreed that my sentimental marquee would forever stay on my left hand even though she is smaller than my new radiant canary diamond.
Let me introduce you to my custom designed radiant beauty – my dream of owning a yellow diamond is now crossed off my bucket list.
We both love her. My Hubby jokes and says, "put your hand down, you are blinding me".
Last edited: