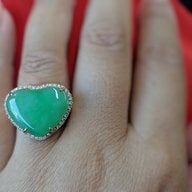 Joined

May 17, 2014
Messages

4,223
Or longer. Not being facetious here. We won't know until we know if you kwim. For me, within a reasonable amount of time I hope to decide to get it. Maybe 2 years. Maybe less. Maybe longer. Or if bad side effects become evident maybe never. Unfortunately like with many things there is no perfect solution/cure so there will most likely be a calculated risk no matter when one decides to get it or not get it. Either way it is a calculated risk. And just because one had Covid and didn't have severe symptoms doesn't mean if one gets it again they will have the same mild symptoms.
That's why I'm taking the approach of: Gotta be tough enough to either fight Covid or the vaccine.
I will take my chances with the vaccine. Oddly enough at this point I feel like "What will be will be" and just try to do reasonable/sensible things.