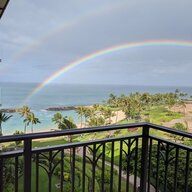 Joined

May 11, 2013
Messages

6,408
@marcy
high speed train service to those areas that make sense, it probably doesn't make sense to place trains in places of large amounts of snow. Although I can take a train from Grand Central to Rochester NY and Erie, PA.
Rochester has an average of 77 inches of snow per winter.
Erie has an average of 101 inches of snow per year.
Elk Mountain has an average of 61 inches
Trains in Rochester NY:
https://www.wanderu.com/en-us/train-tickets/us-ny/rochester/
Trains in Erie, Pa:
https://www.wanderu.com/en-us/train-tickets/us-pa/erie/
So I couldn't find any Amtrak near Elk Mountain, but I would start short, like a train to Laramie, Cheyenne, working to eventually going to Denver. I personally would love to see a train service to all the national parks, Yellowstone becomes overrun with cars, be a good idea to have train service in and out, not eliminate car riding but many people would opt to take a ride to the parks. Then tour buses. None of this is going to happen in my lifetime anyway Marcy
but getting people to where there are jobs is a good goal.
I have taken the train to Erie, PA many times in the winter and we would slow down once we started hitting the Albany area till we hit Rochester then Erie, one time we would stopped for 4 hours while the tracks were cleared. Also the trains up north in NY PA are not high speed, good old diesel as far as I know, I've not done it in years, I would take the train from GCS, or Poughkeepsie, NY or Rhinecliff, NY.. it was more enjoyable and less stressful than driving (as once I was caught in a snow squall of hellish proportion when I was driving my cool Prelude out to my sisters, and my gas tank door froze 3X, hellish drive
)
We need to change the mindset, it won't be done in a year 10 or 20, but we should start.
my .02cents. xoxoxox