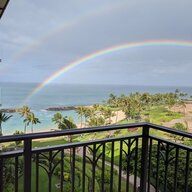 Joined

May 11, 2013
Messages

6,394
We are talking about 'rich' as income. Not esoteric rich. I'm not wrong. Did you read the pointers?
So you are saying your kids are going to inherit a lot of money?
NO most rich people don't have ideas and make things happen. Most people inherit money ala the Trumps, the Hiltons, and their ilk.
In real life, working hard only takes you so far. Those who go all the way — to grand fortune — typically get a substantial head start.
inequality.org
Bill Gates was rich before he made his billions, the Facebook kid was rich (forgot his name)... Michael Dell was wealthy. Without THOSE people behind them (momsy and dadsy) putting them into Ivy League or Ivy State schools I doubt very much they would be billionaires today.
Money makes money. Going to Harvard gives your kid an edge in life..
So it's great you are saving money for your kids and perhaps you are one of the top 5%ers in which case your kids know it and they are privileged which is great, but not what most American youth have today.
wrong. My kids will get rich because my husband and I have rolled up our sleeves and work hard so that our accumulated wealth can propel the next generation. But, it did begin with hard work and sacrifice. Most wealthy people have ideas and make things happen. It's not all under Trump. We did very well under President Clinton.