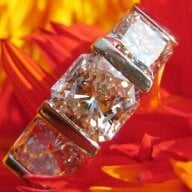 Joined

Feb 20, 2006
Messages

1,420
The background story is as follows:
Back in December of 2010 and January 2011 Gemgirl (Lisa) designed and then commissioned
Whiteflash
to make a gorgeous pendant for her that she ultimately named "Bella" and which
WF
eventually offered for purchase on their website.
Below are Gemgirl's threads of her Bella pendant journey:
Show me… The Beautiful CADs
https://www.pricescope.com/community/threads/show-me-the-beautiful-cads.153341/
Introducing!... The
Whiteflash
Bella Pendant
https://www.pricescope.com/communit...-whiteflash-bella-pendant.155624/?hilit=Bella
So in love was I of this beautiful pendant that I just had to have it! I prefer my jewelry in yellow gold so I contacted Renee at
Whiteflash
, as she was the
WF
contact that had helped Gemgirl with her original Bella pendant. I asked Renee if
WF
could make it in yellow gold. The answer was, absolutely yes!
Besides the change from white to yellow gold, I also asked for a bezel set (instead of prong set) center diamond. I had selected three
WF
diamonds that I was considering using as the center stone for the pendant and decided to go with the largest one a .664 G SI1
ACA
.
That left two slightly smaller stones left over (a .603 Expert Selection G VS2 and a .618
ACA
G SI1), which thanks to my wonderful husband's encouragement, I decided to make into matching earrings.
Below are my CAD's and some
WF
glamour shots. The three piece earring and pendant set is being FedEx'd to me next week so I'll have IRL pictures to add to this thread then.
The wonderful people at
Whiteflash
that helped me along the way and who I cannot speak more highly of are:
Renee B.: who so enthusiastically guided me through the whole process and was nothing but supportive and accommodating, even calling me when she was home sick with the flu to give me an update.
Joe D.: the CAD guy, who read my emails and accurately noted that, "I was not a small melee kind of gal" hence, we bumped the earring melee up to 2½ pointers.
Leon: The design/shop foreman who helped me brainstorm the earring design, taking into consideration the weight of the gold as well as the placement on the ear and overall comfort and aesthetic appeal. We agreed that omega backs were the best choice to keep the earring design aligned property.
Vera W.: Who so efficiently and diligently handled my wire payments and kept me apprised of where in the process the pieces were and what to expect as far as delivery and shipment.
Unfortunately I don't know the name of the benchman who actually made these gorgeous pieces of jewelry. I do know that the same person worked on all three as Vera told me they wanted the work to be consistent and all done at the same time by the same person. She said he was one of their best jewelers. Perhaps I will be able to get his name next week, if yes, I will add it here.
And last, but certainly not least my thanks to Gemgirl (Lisa) without whom none of this would be possible without her beautiful concept and design of the original Bella pendant. I hope I did her design justice and she is OK with the small changes I made to the pendant and that she is as happy with the matching earring design as I am.
OK, so that's the story…
Now here are the pics.
Enjoy!