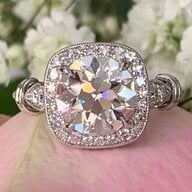 Joined

Jan 11, 2006
Messages

58,487
telephone89|1449075291|3956441 said:

No, I don't think they would lie to you. If you look at some of the posts (Texas Leaguer) on here from

WhiteFlash

they are pretty open and honest. You can also maybe ask for a video of the diamond you are considering with one that doesn't have painting, and see which you like better.

WF

customer service is A+++++.
I am betting that none of us would probably be able to even tell the difference between two otherwise identical stones with that slight difference in cut. I like the stone videos they provide on the site because it helps me assess clarity, but I do not think ACAs can really be differentiated by a video...the differences are soooo slight especially in real life viewing because they have tight parameters for what goes into the line. But Bryan, I am certain, will tell us if there is some reason the op should choose a different stone.