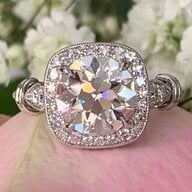 Joined

Jan 11, 2006
Messages

58,485
I am so glad you love your diamond! I was fairly certain you would!
Perfect Circle/Jeweler's Mutual is a good choice because they will insure the stone while being set, and most will not. You will probably need the setting information. There is no reason to insure for more than the purchase price, because unless diamond prices have an unusual spike upward, you'd be paying extra premiums for nothing. They aren't going to pay out extra for the replacement no matter how much you overinsure. Prices have been stable over the last couple of years even with some decreases. Just check
WF
prices yearly and see if you need to bump up your coverage a little. Mine has had no need to go up in the last two years. A couple of advantages of having a separate jewelry policy is that #1, JM will work with
WF
on your replacement should your stone be lost/stolen/destroyed, and there is no guarantee that homeowners would. Plus, if you have a jewelry claim on your homeowners, it is possible your whole policy rates could go up. So I definitely keep my jewelry separate.