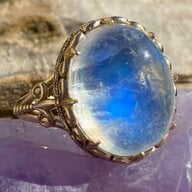 Joined

Mar 13, 2005
Messages

2,262
Which personalities do you gravitate towards, and what are your traits/preferences? Now that I''m more active on this forum, I find myself gravitating towards certain posters. We most likely have some or all of these in common:
-My sense of humor is more playful and rowdy than dry and sarcastic.
- I prefer funny over cute.
- I''m attracted to athletic and masculine guys over nerdy ones.
- I like dogs better than cats.
- I appreciate those who are the first to ask questions than the first to voice judgement.
- I have a tendency to stay off-topic, and I apologize in advance.
-For some reason, I use these emoties the most:

and

-I try to be modest and conservative in my posts, but the liberal and dorky side just oozes out.
-I have a sick need to name things, including sparklies.
-I''m a tomboy at heart, so I''m not very girly.
-I prefer warm and colored diamonds.
-I prefer vintagy styles.
-I haven''t warmed up to halos or bezels yet.
-I prefer eye-clean over mind-clean.
-I prefer curved shapes over angular.
-Double Income, No Kids
-I love romantic and scary movies.
-I am NOT a morning person.

What about you?